Ash Wednesday forehead burns mystery solved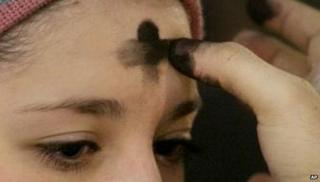 Mystery burns on worshippers' foreheads at Ash Wednesday church services were caused by a chemical reaction, an Irish priest has said.
Churchgoers in County Cork and Galway city experienced burning after receiving ashes to mark the beginning of Lent.
After people complained of "a burning sensation", the priests brought samples of the ashes for scientific testing to find out what had happened.
It turned out that the leaves were too dry and the ash turned caustic when water was added, according to Monsignor Malachy Hallinan of Westside Parish in Galway.
The priest said he had kept the leaves from Palm Sunday last Easter and stored them in his garage before burning them on a stove.
"It left me with beautiful dry white ash - it was the first time I'd had it so dry, white and clear, like powder.
"When I put the water into it, I thought it fizzed a bit.
"I examined it and didn't find anything wrong, although I didn't put it on my own forehead, which I should have done."
When people attending 10 o'clock Mass at the Church of the Sacred Heart told him they had been burned, he put some ashes in a plastic bag and took it for analysis.
A few hours later, the mystery was solved.
"The material was strongly caustic - the reason for it was total combustion of organic material, where all the carbon material was burned away and all that remained was ash," said Monsignor Hallinan.
"Once this ash is mixed with water, the chemicals react to produce potassium hydroxide and similar caustic material."
He was advised that palms being burned for Ash Wednesday should be "fresh and green" as it burns at a lower temperature and produces ashes much lower in pH.
A similar incident occurred at Newtownshandrum, County Cork, when about 30 parishioners who were burned at St Joseph's Catholic Church had to wash off the ashes in the sacristy.
The ashes were brought to a local hospital for laboratory testing.
The marking of a cross of ashes on the forehead is a Christian tradition that symbolises humility and mortality.