French right-wing in shock at secret Sarkozy tapes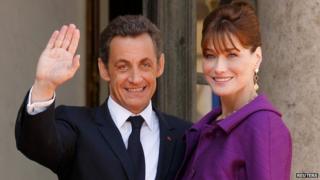 France's right-wing opposition is reeling after the publication of secret tapes made at the Elysee palace during the presidency of Nicolas Sarkozy.
The recordings - in which Mr Sarkozy is heard discussing confidential affairs of state but also joshing with his wife Carla Bruni - were made by one of his closest advisers, Patrick Buisson.
A highly controversial figure whose political origins lie on the far-right, Mr Buisson is credited with engineering Mr Sarkozy's 2007 election by pushing him to toughen his stance on immigration, crime and national identity.
After the election Mr Sarkozy said of him: "There are very few people of whom I can say, 'It's because of him that I am here'. Patrick is one of them."
But Patrick Buisson, now 64, accumulated enemies.
Many in Mr Sarkozy's UMP party resented his influence. They disliked his shadowy, scheming personality, and feared he was taking the president into populist territory normally reserved for the Front National.
It now appears evident that throughout his time as top presidential adviser, Mr Buisson was obsessively making recordings. He made them on a dictaphone, often (judging from the poor sound quality) simply kept in his pocket, and in total they add up to hundreds of hours.
President Sarkozy was in total ignorance.
Boastful talk
Patrick Buisson initially denied the existence of the recordings.
He then claimed that they were made "for work purposes" - with an eye to a possible future book on the Sarkozy years.
But few believe him.
For some, the tapes are emblematic of a far-right political culture that is congenitally paranoid. Others say they were a form of protection.
"I believe he made the recordings as an insurance policy," says Jean-Sebastien Ferjou of the right-wing news website Atlantico, which has broadcast some extracts.
"He was originally from the far right. A lot of people in the Elysee wanted his head. So he wanted to keep things up his sleeve in case later there were attempts to bring him down."
The affair is a huge embarrassment to the opposition UMP party, which should be - but right now is not - capitalising on the record unpopularity of the Socialist Francois Hollande.
It is also demeaning for Nicolas Sarkozy, whose bid for a political comeback is seen as a near certainty ahead of the next presidential election in 2017.
To rely on an adviser with links to the far-right is bad enough, but arguably a legitimate political calculation.
But when that man is revealed as a devious - and indeed treacherous - manipulator, it looks more like appalling personal judgment.
"For such a man to have been the number one adviser of the head of state speaks volumes about how affairs were conducted under the Sarkozy presidency," said Pierre Moscovici, finance minister in the Socialist government.
The tapes that have been published so far contain no bombshells. What they show is the president speaking without inhibition before his inner political and personal circle.
The recordings were made in early 2011, shortly before Mr Sarkozy announced a government reshuffle. Some are of a group of advisers, including Mr Buisson and on one occasion Carla Bruni.
Another - made in a taxi on the way from a meeting with Mr Sarkozy - is of a discussion on what has just happened between Mr Buisson and another adviser, Jean-Michel Goudard.
In this recording, Mr Buisson and Mr Goudard talk dismissively of some of the president's ministers. Michel Mercier, who was justice minister, is "disastrous". Roselyne Bachelot, social affairs minister, is even worse: "She just talks crap."
The two men boast of their influence over the president - agreeing that he takes no decision without their say-so.
Most controversially, Patrick Buisson at one points speaks of the likely move of the Elysee cabinet secretary Claude Gueant to the ministry of the interior.
Mr Buisson says it could be problematic because while at the Elysee Mr Gueant was able to follow "certain affairs… at the prosecutor's office... He got involved." At the interior ministry that might be harder, he says.
The clear implication is that the presidency was interfering in the justice system. Significantly, Mr Buisson was (and is) himself at the centre of a judicial investigation over claims his political consultancy was being over-paid by the Elysee.
Affable and loving
In the taxi tape, Patrick Buisson also complains about the presence of Carla Bruni at the president's strategy meetings. "It's tough, huh?" he says.
In fact, Carla Bruni herself appears in one recording - joking with her husband about their relative incomes now that she has had to give up her singing career to be First Lady.
After she says she plans to resurrect her lucrative performance contracts, Mr Sarkozy retorts: "Well I guess my future will be as Mr Nobody on the cash-register." And everyone laughs.
From the actual recordings, Mr Sarkozy emerges perfectly well. He is affable, loving towards his wife, not abusive towards absent colleagues.
The scandal is how he could have fallen under the spell of a man who is today being vilified across the political spectrum.
Arguments about Mr Buisson's influence have long raged.
For his detractors he is the man who cost Nicolas Sarkozy the 2012 election by once again urging him to appeal to far-right voters.
But others - who may deplore his personality and behaviour - argue that Patrick Buisson's analysis was not wrong. The surprising thing about the 2012 election - for this school of thought - was not that Mr Sarkozy lost it, but that he very nearly won.
The debate continues to be played out in the UMP.
Should it appeal to the centre and surrender a large chunk of voters to the Front National? Or should it calculate that the political appetite in the country as a whole has shifted to the right, and that a tougher line on immigration, crime and Europe is a legitimate reflection of that reality?
Nicolas Sarkozy himself has burned his bridges with Patrick Buisson. He is suing him for breach of privacy, and tacking politically towards the centre ground.
But the arguments will not go away. Patrick Buisson may be dead politically, strangled by his own tapes, but Buissonism lives on.