Irish Prime Minister Enda Kenny on two-day visit to UK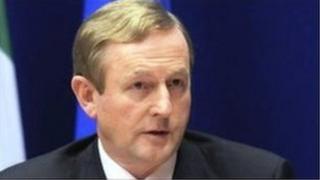 Irish Prime Minister Enda Kenny is on a two-day visit to the UK.
He will be guest of honour at a civic reception in Manchester, hosted by the city's council, and officially open phase one of the new Irish World Heritage Centre.
On Tuesday, he will hold bi-lateral talks with Prime Minister David Cameron in Downing Street.
It is thought their discussions will cover a variety of topics, including trade and north-south issues.
Mr Kenny will also attend a St Patrick's Day reception in Westminster.
The Irish World Heritage Centre in Manchester is the main venue for the Irish community of Manchester to pursue Irish cultural activities and celebrate Irish heritage.