Irish fathers could share maternity leave under new proposal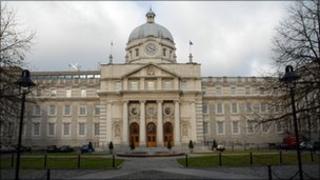 The Republic of Ireland is considering legislation to allow mothers to share maternity leave with fathers.
Kathleen Lynch, minister of state at the Department of Health, said the government hoped to have "serious proposals prepared before the end of the year".
Irish mothers receive 26 weeks statutory maternity leave.
The proposals would allow them to give two weeks to a child's father.
The government are also looking at letting parents "step in and step out" of the 26 weeks in order to share the time more equally.
However Ms Lynch said the government would ensure the decision on paternity leave rested with the mother.
Ms Lynch added that discussions with women's groups have already taken place and she hoped to speak to employers' groups soon.
She said the process is "a bit more complicated than originally thought".
"When we started looking at this, we were not looking at the whole issue of same-sex marriage. Now we have surrogacy and all of that has complicated the issue."