Ukraine crisis: 'Russian soldiers' seize Crimea hospital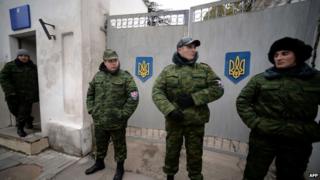 Armed men - said to be Russian troops and local militias - have seized a military hospital in Crimea, as Moscow tightens its grip on Ukraine's region.
The attackers marched into the hospital in the regional capital Simferopol, threatening staff and some 30 patients.
Pro-Russian troops are also blockading Ukrainian troops across Crimea.
The latest moves come ahead of Sunday's secession referendum in the autonomous region. Kiev and the Western nations describe the vote as illegal.
In other developments on Monday:
Russian Foreign Minister Sergei Lavrov says Moscow will send its "counter-proposals" to Washington to try to resolve the Ukraine crisis; the US earlier proposed to set up a contact group, renew direct Kiev-Moscow talks and also urged Russia to pull its troops in Crimea back to their bases
In a phone call, US President Barack Obama and his Chinese counterpart Xi Jinping urge Russia to respect Ukraine's territorial integrity
Russia's former tycoon Mikhail Khodorkovsky, who spent a decade behind bars, tells students in Kiev that Russia has severely violated international law by deploying troops in Crimea
'New directors'
Up to 30 men in military uniforms - some with truncheons - broke into the hospital, where Ukrainian soldiers and veterans were being treated. Some of the patients are reported to be seriously ill.
The hospital director said he was forced onto a bus and kept there for half-an-hour.
The attackers also herded staff into a reception to apparently meet "the new directors", Ukraine's Interfax-Ukraina news agency reports.
Separately, pro-Russian troops tried to capture a military transport base in Bahkchysarai, a town between Simferopol and Sevastopol.
The gunmen fired warning shots into the air, but Ukrainian soldiers repelled the attack. The negotiations are reportedly still continuing.
Step-by-step, and meeting very little resistance, the pro-Russian troops are dismantling Ukraine's ability to resist in Crimea, reports the BBC's Christian Fraser, who is in the region.
Moscow has officially denied that its troops are taking part in the blockades, describing armed men with no insignia as Crimea's "self-defence" forces.
The government in Kiev - as well as the US and EU - accuse Russia of invading Ukraine, in violation of international law.
'Shameful silence'
Earlier on Monday, the Russian foreign ministry condemned "lawlessness" in eastern Ukraine, blaming far-right militants for "conniving" with the Kiev authorities.
In a statement, the ministry said the "well-equipped" gunmen opened fire on "peaceful protesters" in the eastern city of Kharkiv on 8 March.
The city has recently witnessed mass rival rallies, some of which were violent.
However, local Kharkiv police say they are treating the alleged shooting as a minor incident, according to Reuters.
The Russian statement also said the seven Russian journalists had been detained by police in Dnipropetrovsk, also in the east, who accused them of being interested only in "separate provocative stories".
"The Ukrainian authorities, in violation of all existing bilateral treaties, are not letting Russian citizens into the territory of Ukraine," the statement added.
And it also voiced Moscow's surprise over "the shameful silence of our Western partners, human rights groups and foreign media".
Ukraine has in the past firmly denied similar Russian allegations, instead accusing Moscow of distorting facts to justify its continuing military presence in Crimea.
Kiev points out that monitors of the Organization for Security and Co-operation in Europe have recently been prevented by pro-Russian militia groups from entering Crimea and a number of journalists have been beaten up by militias in the autonomous region.
Russian President Vladimir Putin insisted he has the right to protect Russian interests and the rights of ethnic Russians there.
On Sunday, he also defended the moves by Crimea's authorities to stage the referendum on 16 March. Mr Putin said "the steps taken by Crimea's legitimate authorities are based on international law".
However, German Chancellor Angela Merkel told him in a phone call that she considered the vote illegal.
Both EU leaders and the US have warned Moscow they would slap even tougher sanctions if Russian troops remained in Crimea.
Unrest in Ukraine erupted in November after former President Viktor Yanukovych's last-minute rejection of a landmark EU deal in favour of a bailout from Russia.
Mr Yanukovych was ousted last month, and a new government has been voted in by the Ukrainian parliament.