Spain admits use of rubber bullets on migrants was wrong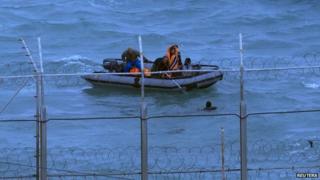 Spain's interior minister has admitted police should not have fired rubber bullets at migrants trying to reach its North African territory last month.
At least 15 migrants drowned on 6 February as hundreds tried to swim to the enclave of Ceuta from Morocco.
The police were criticised by the EU and rights groups who said the bullets could have played a role in the deaths.
This is the first time the Spanish government has admitted that police should not have used rubber bullets.
Interior Minister Jorge Fernandez Diaz said that rubber bullets were unlikely to deter the sub-Saharan migrants.
At the time he insisted that coast guards had not shot directly at the migrants and that the rubber bullets did not cause the deaths of any of those who drowned.
Together with Melilla, a second Spanish enclave, Ceuta is the European Union's only land border with Africa.
The two cities, both located on the Mediterranean coast at the northern tip of Morocco, have become a magnet for migrants trying to get to Europe.
The latest attempt by migrants to force their way into Spanish territory came at the weekend, when about 150 people tried to break into Melilla.
Local police said it was the second attempt in less than 24 hours and 15 made it into the city before being arrested.
Speaking on the eve of the 10th anniversary of attacks on four Madrid commuter trains that killed 191 people, Mr Fernandez Diaz also warned that the country remains a target for terrorists.
Spain's alert level remains at its second-highest category, signifying "a likely risk of attack", and Mr Fernandez Diaz said 472 suspected Muslim extremists had been arrested since the 11 March 2004 attack.
"Clearly Spain forms part of the strategic objectives of global jihad," he said. "We are not the only ones but we are in their sights obviously."