Former Croatia PM Ivo Sanader convicted of corruption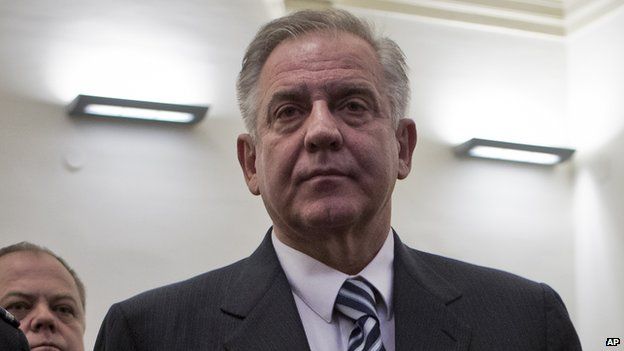 A court in Croatia has sentenced former PM Ivo Sanader to nine years in prison after convicting him and the Croatian Democratic Union (HDZ) of corruption.
They were accused of siphoning off funds from state-run companies.
It was Sanader's second conviction for corruption in as many years, but the first time a Croatian political party has been found guilty of the charge.
Fighting corruption was a key criterion for Croatia to join the European Union, which it succeeded in doing last year.
The conservative HDZ party, now in opposition, has governed Croatia for most of the time since it gained independence in 1991.
Prosecutors accused Sanader of "masterminding" a scheme to divert money from state-run firms and institutions during his his two terms in office between 2003 to 2009, making illegal financial gains for the HDZ and himself.
"Sanader completely ruined public trust in institutions and authorities, creating an image of politics as a profession to become rich," Judge Ivana Calic said.
The verdict was a message to both politicians and parties that corruption did not pay off, she added.
"They were elected to enforce the law, not to break it."
Alongside the HDZ itself, the party's former treasurer, accountant and spokesman were also found guilty and sentenced to prison.
The HDZ was also ordered to pay back $5.26m (3.79m euros, £3.16m) and Sanader was told to return $2.8m.
Analysts say the verdict will have a long-term effect on political financing in Croatia.
The trial, which lasted two years, was seen as one of the most important corruption cases in Croatia since independence.
It came two years after Sanader was sentenced to 10 years in prison after being convicted of taking millions of dollars in bribes from a Hungarian energy company and an Austrian bank.
Sanader was expelled from the HDZ in early 2010.
He and HDZ officials both say they will appeal the verdict, which still has to be confirmed.