Court to rule on Dublin Airport Authority case against Siptu strike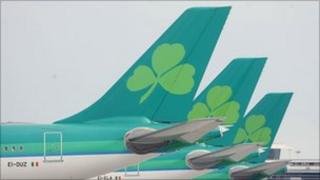 The High Court in Dublin will decide on Tuesday whether a strike by union Siptu can go ahead.
The Dublin Airport Authority (DAA) and Ryanair are seeking an injunction through the High Court to prevent industrial action on Friday.
Siptu members at the DAA and Aer Lingus are due to hold a four-hour strike over changes to their pensions.
The strike is set to happen between 05:00 GMT and 09:00 GMT at Dublin, Cork and Shannon airports.
Siptu last month served notice of the strike after talks aimed at solving the pension dispute broke down.
Aer Lingus staff are opposed to changes being made to their pensions without their consent.
DAA staff also face pension reform.
At the High Court on Monday, DAA lawyers claimed 10,000 passengers were due to fly in and out of Dublin Airport during the four-hour strike period.
They also said many more would face cancellations and knock-on disruption for 24 hours, while the DAA could face losses of "millions of euro".
Counsel for Ryanair said the airline would suffer from being "caught in the crossfire" between the DAA and Siptu.
They also accused Siptu of blackmailing their employers and taking the extreme option of a strike.
However Siptu counsel defended the union's right to take industrial action and accused Ryanair of being inflammatory.
The dispute centres on a 750m euros (£618m) deficit in the pension scheme that covers staff at the airline and the DAA.