Crimeans urged to vote against "neo-Nazis" in Kiev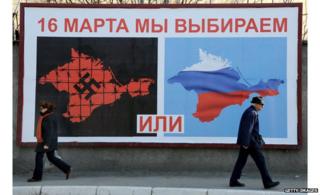 Residents of Crimea have in effect been isolated from all but Russian news outlets ahead of the 16 March referendum on becoming part of Russia.
Although pro-Russian views have always been strong in Crimea, local residents have until recently had access to a mix of news sources, from both Ukraine and Russia, with television traditionally the most popular.
The situation changed drastically in early March, when Kiev-based TV channels were removed from both terrestrial broadcasts and cable networks in Crimea. Some of them were replaced with Russian stations, which are scathingly critical of the new government in Kiev.
Local newspapers in Crimea are all but unanimous in promoting the pro-Russian message, which is also reinforced by street advertising and leaflets handed out across the region.
Several websites have been launched to promote the referendum and closer links with Russia.
TV
The blackout of Ukrainian TV channels in Crimea started on 3 March, when Black Sea TV, supportive of former Ukrainian Prime Minister Yuliya Tymoshenko, was disconnected from local TV transmitters.
A few days later, other Ukrainian channels were taken off the air and replaced with Russian TV stations. The Crimean authorities said it happened due to "technical problems".
On 9 March, one of Ukraine's largest cable operators, Volya, told its subscribers in Sevastopol and Simferopol that it had removed all Ukrainian TV channels from its analogue cable network following orders from the local authorities.
On 11 March, the Crimean parliament took control of the biggest local state-owned TV company, Crimea (Krym), which was seized by armed men on 28 February.
The blackout of Ukrainian TV channels caused protests from the Crimean Tatar community.
Internet
Referendum2014.org.ua was launched to collect information about the 16 March referendum. It features several video clips purporting to illustrate the opinions of Crimean residents, all of whom are either openly supportive of the referendum as a way of attaching Crimea to Russia, or highly critical of the new Ukrainian authorities.
Another new website, Crimea Together, offers a selection of stickers, leaflets and posters, all promoting Crimea's future as part of Russia. The website encourages users to share these posters on social networks or hand them out to local residents.
Pro-Russian images and leaflets have also been shared on Crimea's pro-Russian forums and blogs. Up to 100 of them are collected on Forum.Sevastopol.info, a popular local social network known for its fiercely anti-Ukrainian position. Some highlight Crimea's "historical" links with Russia, others advertise it as "the last chance" for security and the revival of Crimea.
Press
Popular Crimean newspapers such as Krymskoye Ekho, Krymskaya Pravda and Krymskoye Vremya, traditionally supportive of Russia, have been seen stepping up anti-Ukrainian sentiment and calling on Crimean residents to "choose Russia" in the referendum.
Krymskoye Ekho warned Crimeans against trusting the Ukrainian authorities: "Do not trust anyone! There is a media war going on. They are trying to confuse us. Their task is to prevent a referendum going forward."
Krymskaya Pravda described the referendum as the "last chance".
"We have the last chance to express our opinion at the referendum - we are in unity with Russia. We must have a clear conscience and not be ashamed to look our children and grandchildren in the eye," it said on 7 March.
Street advertising
Posters have been put up across Crimea telling local residents that they will be choosing between two stark options: one is illustrated with a picture of Crimea with a swastika superimposed on it, the other is a Crimea painted in the colours of the Russian flag.
Leaflets arguing that living standards are higher in Russia than in Ukraine have reportedly been handed out across Crimea. One such leaflet says Crimea has to make the right choice, or "Ukrainian neo-Nazis will treacherously and gradually take away everything from us through blackmail and bribery".
BBC Monitoring reports and analyses news from TV, radio, web and print media around the world. For more reports from BBC Monitoring, click here. You can follow BBC Monitoring on Twitter and Facebook.