Turkey mass protests: 'Two dead' after teenager's funeral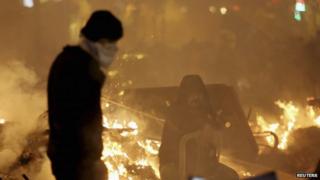 Two people have died during protests across Turkey following the funeral of a teenager wounded in anti-government clashes last year, local media report.
One man was shot during clashes in Istanbul's Kurtulus district.
In the east of the country a police officer is said to have died of a heart attack while dealing with unrest.
The protests were prompted by the death on Tuesday of 15-year-old Berkin Elvan, who had been in a coma since being hit by a tear gas canister nine months ago.
He had gone out to buy bread in Istanbul during clashes.
Violent protests
Berkin's death on Tuesday triggered violent unrest in at least 32 towns and cities across the country - reminiscent of last year's.
Riot police fired tear gas and water cannon at protesters in Ankara and Istanbul on Wednesday as tens of thousands of people took to the streets to mourn his death.
In the Ankara clashes, demonstrators tried to halt traffic but were stopped by police, who made a number of arrests. Several protesters were injured.
One woman broke her leg and several others were injured in the western city of Izmir when police tried to stop crowds marching towards local government buildings, the NTV news channel reported.
Protesters in Istanbul threw fireworks into police lines while hundreds of people - including bystanders caught up in the melee, sheltered in a shopping centre and a hotel lobby as police fired tear gas and pepper spray.
Large crowds yelling anti-government slogans in Istanbul had lit a huge fire as they headed towards a cemetery for Berkin's burial.
Scuffles broke out in the city's Taksim Square - the epicentre of last June's mass protests - when police tried to prevent a group of protesters from congregating there.
Hurriyet said the clashes were dying down overnight after forceful police measures.
'Suffocate the killers'
The teenager's coffin - draped in red and covered in flowers - had been carried through the streets to a hill-top cemetery, surrounded by huge crowds.
Mourners shouted "Berkin's murderers are the AKP police", referring to Prime Minister Recep Tayyip Erdogan's ruling Justice and Development Party (AKP).
"The rage of mothers will suffocate the killers," screamed others.
The boy's father, Sami Elvan, told the BBC's Newshour programme that his son had become a "child of the people".
Asked how he would like him to be remembered, he said: "I want him to be known as a child killed by the state. He was just an innocent boy killed when he went out to buy bread."
The unrest adds to mounting pressure on Mr Erdogan. But he has downplayed the protests arguing that "a government can only be changed at ballot box".
As tension rose, Mr Erdogan again appealed for calm, urging his opponents to express their opinions peacefully in local elections this month.
Mr Erdogan has vowed to step down if the AKP, in power since 2002, loses in the local elections. The polls are seen as a key test of his popularity after last year's unrest and recent corruption scandals.