Jerome Kerviel's long walk as jail term looms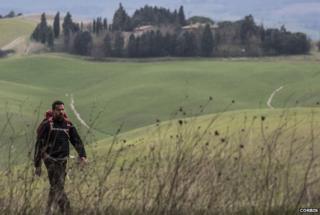 On Wednesday, a court in France is due to decide whether the trader who lost 4.9bn euros ($6.4bn; £4bn) at French bank, Societe Generale must go to prison.
This is Jerome Kerviel's last appeal against his sentence. But if the court does send him to jail it may take him a while to get there - as he is in the middle of a very long walk from Rome to Paris.
"I am totally free - for the first time in six years I am free," says Kerviel, as he walks along a windy roadside in Italy. "The more I walk, the more the more I get a sense of what I am doing - it liberates me.
"For the past six years everybody was deciding things for me - when the trial was, when the police would come for me, when I had to talk."
He is currently near Bologna, three weeks into a 1,400km (870 mile) trek from Rome to Paris. So far he has completed about a fifth of the walk.
But this is part of a much longer journey for Kerviel. His name hit the headlines in 2008 when his employer, Societe Generale, revealed that he had run up $50bn (£33bn; 38bn euros) of unauthorised trades which had to be unwound. The process cost the bank 4.9bn euros - the biggest loss of its kind in history.
Time to think
"In my job as a trader I did wrong, for sure, I got far away from how my parents educated me," he says. "The only goal was money, money, money for the bank. I didn't care about what I was doing."
On his walk he says he has time to think about the consequences of his actions - in the past, he didn't worry about morals, or if his deals drove down the value of another company's shares.
Kerviel always maintained that the bank knew what he was doing but turned a blind eye. But in 2010 he was found guilty of forgery, unauthorised computer use and breach of trust.
He was sentenced to five years in prison, with two years suspended, and told to pay back the money he lost - although the bank has said it will not ask for full repayment.
He lost an appeal in 2012, and is now waiting for the French Court of Cassation's final decision.
'Living for each moment'
So how did this lead him to Rome and the long walk home? in 2013 Pope Francis spoke out against the "cult of money," criticising the public's obsession with consumption. "Money has to serve, not rule," he said.
The Pope's call for reform touched a nerve with Kerviel and he sent the Pope a letter. "For me, it made sense to write to him and say 'I am a witness of what is going on in this kind of business'," he says.
In February, Kerviel and his lawyer met the Pope during an audience in St Peter's Square in Vatican City. He will not reveal exactly what they discussed, but says this was an important moment for him.
"When I met the Pope… I felt I had to walk back to Paris. I didn't know really why I had this feeling to need to walk but I thought that it was very necessary for me.
"At first it was very, very hard because my foot was injured [a twisted ankle] but now it's very, very pleasant and I get very, very beautiful landscapes. I can see amazing things here where I am - it's beautiful."
He is living off 40 euros ($56; £33) a day, spending the night in small hotels and guesthouses along the way.
When the Court of Cassation makes its ruling, Kerviel will still be in Italy but he says he isn't trying to evade the police. "I am not leaving France, I am going back to France - I remain at the disposal of justice and the police so if they want me I am available."
But for now he says "I am living for each moment".
Jerome Kerviel spoke to World Update on the BBC World Service.