Aer Lingus to sue Siptu over airport strike threat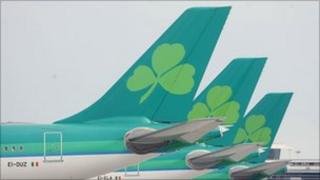 Aer Lingus is suing Irish trade union Siptu for damages over a threatened strike that was due to take place on Friday.
The proposed four-hour strike would have affected Dublin, Cork and Shannon airports.
The industrial action was prevented on Wednesday when the High Court issued an injunction to the Dublin Airport Authority (DAA) to block the strike.
Siptu said it will "vigorously resist" the legal proceedings.
A Siptu spokesperson added that the union will be consulting with its legal advisers within the next few days.
Liable
Aer Lingus is seeking damages for reasons including breach of contract and conspiracy.
The summons lodged by the company says the union induced a breach of Aer Lingus contracts with its customers.
The airline is seeking a declaration by the courts that a secret ballot by Siptu ahead of the proposed strike was unlawful.
Aer Lingus have also told Siptu's pensions policy adviser, Dermot O'Loughlin, they hold him personally liable for the damages, along with the union.
Pensions dispute
In a letter to Mr O'Loughlin, Sean Murphy, Aer Lingus' director of change and engagement, said the union's notification that the strike would not be going ahead was "too little too late".
He wrote that Aer Lingus had to reorganise its flight schedule, cancel flights, rebook passengers and hire additional aircraft due to the proposed strike.
Last month, Siptu served notice of the strike after talks to resolve a pensions dispute broke down.
The dispute centres on a 750m euros (£618m) deficit in the pension scheme that covers staff at Aer Lingus and the DAA.