The Portuguese town where dinosaurs once roamed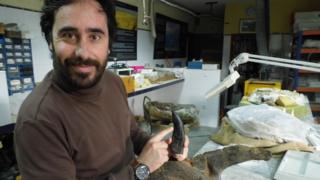 The recent identification in Portugal of what scientists believe to be the largest predator ever to roam the European landmass is just the latest boost for a small town that has become known as "land of the dinosaurs".
It is also the latest chapter in the fairytale story of a local boy who made his first big discovery at the age of nine - of a huge tooth from this same dinosaur - and who today leads the research project whose findings have been making headlines worldwide.
In a laboratory piled high with fossils, Octavio Mateus holds up a tooth the size of a dagger from the newly identified species - just like the one he found as an excited child.
"With this blade-like tooth you can clearly see the serration - this was a fierce predator," he explains. "Compare it with Tyrannosaurus rex, which has teeth like bananas - they are very round in cross-section, adapted to crush through bone - while these were to cut through flesh.
"This shows different feeding strategies in the evolution of these animals, although they are superficially similar."
Now 38, Octavio is a professor at Lisbon's Universidade Nova (New University), where he teaches the country's first-ever degree in palaeontology.
But he still spends plenty of time here at the museum in Lourinha, 50km (30 miles) north of the capital, that his parents helped found 30 years ago to house rich local ethnographical and archaeological finds.
Jurassic trove
Ironically, the paleontological section was something of an afterthought. Today, hugely expanded, it is the big draw that brings some 25,000 visitors a year to a town with a population of just 7,000.
The truth is that Lourinha has just two claims to fame. The area is one of only three officially recognised producers of brandy (the others being the more famous Cognac and Armagnac, both in France), and its rocks are, thanks to their geology and accessibility - above all in cliffs along the Atlantic coast - a treasure trove of Jurassic-era fossils.
As the finds have multiplied and the museum's displays grown, locals have taken ever more pride in their unique heritage.
Lourinha businesses often have the word "dino" in their name, and many logos feature a cartoon version of one of the extinct beasts. In one cafe, a massive fossilised leg bone stands, like a pillar, next to the pastry counter.
Welcome signs at the town entrance inevitably feature a rampant dinosaur, and one roundabout is dominated by large metal silhouettes of three of the beasts. Dinosaur-themed souvenirs abound.
All the fuss is justified. The museum - housed in the old town courthouse - boasts a collection of dinosaur fossils from the Upper Jurassic that is the largest in Iberia and among the most important in the world.
Lou-Octavia Morch, an art student from France who is torn between specialising in archaeological and paleontological drawing, says Lourinha is ideal for either. This is thanks to remains from a necropolis nearby and other ancient sites, as well as the famous fossils.
"It's inspiring for both," she says as she sketches a human skull, as part of her two-month spell at the museum. "It's amazing, full of lots of things to study here. I could stay years."
Dinosaur-related items on display range from complete skeletons to a fossilised nest with dozens of eggs, crushed but still in place, with hundreds of pieces of shell visible as well as the remains of two embryos.
The nest was just one of the many breathtaking finds made by the Mateus family during outings that, for Octavio, began when he was little more than a toddler.
"I was virtually born in a dinosaur's nest," he jokes.
If you want to get children interested in science, it is hard to think of a better way than for them to dig up a dinosaur.
Few can boast of having dug up several - and of going on to identify whole new species.
Family affair
One of the dinosaurs to be found in the museum is the predator Lourinhanosaurus, identified as a new species by Octavio himself while he was still a biology undergraduate.
"This species received the name of the town, which for us is a bit iconic," he stresses.
In the course of his research career, Octavio has not only continued to make major finds in Portugal, but discovered both Angola's and Bulgaria's first dinosaurs.
His latest field trip was to Greenland, as part a team that discovered fossils from two phytosaurs - large reptiles that are similar to crocodiles but from the Triassic era, 200 million years ago.
But the Lourinha museum, in whose lab he spends hours preparing local fossils, is clearly a special place for him.
In its palaeontology section hangs a giant fossilised skull from the dinosaur that - as a result of the study published by Mateus and his collaborator in Lisbon, Christophe Hendrickx - has now been given the name Torvosaurs gurneyi.
That distinguishes it from Torvosaurus tanneri, whose remains are found in rocks of a similar age in North America, known as the Morrison formation.
Both of these theropods - two-legged carnivores - roamed the Earth some 150 million years ago (80 million before T-rex) but, according to the new analysis, had evolved into separate species after the last land bridges between Europe and America disappeared.
Palaeontology in Lourinha remains something of a family affair. Octavio's father Horacio - the driving force in founding the museum - passed away last year, but his brother Simao brims with enthusiasm in guiding visitors around the displays. He recently completed a master's in museology and his sister Marta has also done stints as a volunteer.
Simao, who also writes and illustrates children's books about dinosaurs, provided sketches for Octavio's latest research paper.
For the town, these long-extinct beasts have brought fame and a strong sense of community.
"What the museum gives to Lourinha is not only the fossils but their identity," says Octavio. "People see in dinosaurs part of themselves."
The museum is a community venture, with everyone from the director to the secretary working for free, making it largely self-financing. The town council provides one fifth of its budget - clearly a good investment.
"It wouldn't be possible in any other way to have the name of this municipality spread as it is," points out Octavio. "The brandy is considered one of the best in the world, but dinosaurs have a very large impact."