No Ukraine accord in US-Russia talks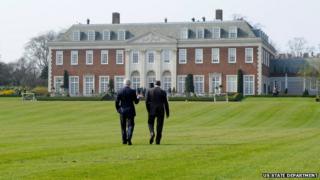 Russia and the US have "no common vision" on the crisis in Ukraine, Russia's foreign minister has said, after talks with his US counterpart.
However Sergei Lavrov called his London meeting with John Kerry "constructive".
Mr Kerry said the US was "deeply concerned" about Russia sending troops to the Ukraine border and in Crimea.
Mr Lavrov said Moscow would respect the result of Sunday's referendum in Crimea on whether to join Russia but Mr Kerry said the US would not recognise it.
After six hours of talks between the two men, Mr Lavrov told reporters that Russia had no plans to invade south-eastern Ukraine.
Russia would "respect the will of the people of Crimea", he said.
Voters in Crimea - the southern autonomous republic in Ukraine - are to decide on whether to re-join Russia or stay with Kiev.
In a separate development, pro-Ukrainian and pro-Russian activists clashed in the eastern Ukrainian city of Kharkiv. Eyewitnesses say gunfire was heard, and unconfirmed reports suggest there were casualties.
This follows Thursday night's violence in Donetsk, also in the east, where at least one person died in fighting between a pro-Russian crowd and supporters of the new government in Kiev.
'Consequences'
Mr Kerry, who described the talks as "direct and candid", said the US acknowledged Russia's "legitimate interests" in Ukraine.
He said that the US had not changed its position on the "illegitimate" referendum in Crimea and would not recognise its outcome.
However, he said his Russian counterpart had made it clear that President Vladimir Putin was not prepared to make any decision until after the vote.
The secretary of state said that he had told Mr Lavrov that there would be consequences if Russia "does not find a way to change course".
Russia's military intervention in the Crimean peninsula - part of Russia until 1954 and host to its Black Sea fleet - followed the fall of Ukraine's pro-Moscow President Viktor Yanukovych on 22 February.
On Thursday Russia announced it would hold artillery drills near its border with Ukraine.
The White House has announced that US Vice-President Joe Biden will travel to Poland and Lithuania early next week to discuss ways to support Ukraine's sovereignty, as well as Nato members' reciprocal defence commitments.
Security fears
Moscow has not recognised the interim government that took over in Kiev following Mr Yanukovych's departure.
Mr Lavrov said that Russia had "deep concern" that there were "no measures" to provide security and order in Ukraine or to prevent the actions of "radicals".
The US and the European Union have said that Sunday's vote in Crimea violates international law and the Ukrainian constitution, and are planning to impose sanctions against Russian officials if the crisis does not ease.
President Barack Obama also reiterated on Friday that there would be "consequences" if Ukraine's "sovereignty continues to be violated".
The United Nations Security Council is to vote on Saturday on a US-drafted resolution stating that the result of the referendum should be disregarded by the international community.
The BBC's UN correspondent, Nick Bryant, says that though Western states expect Russia to block the moderately worded resolution with its veto, they hope that China will either support the resolution or at least abstain, in order to show Moscow's diplomatic isolation.