Regional media reflect fears over Putin speech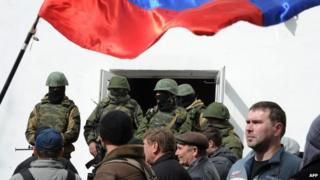 Russian President Vladimir Putin's speech at the Kremlin justifying Crimea's annexation has brought an immediate response from commentators in countries neighbouring Russia.
'Gathering the lands'
Polish writer Jerzy Haszczynski - in the Rzeczpospolita daily - urges people to mark the day of Putin's speech on their calendar.
"This is the day when the scales should fall from the eyes of Western people. Their eyes must instead shine with the desire to rescue the Western world and its values, such as respect for stability, security, law and democracy."
So far, no flicker of this desire is discernible among Western leaders, he concludes.
Piotr Maciazek - in the Defence24 military news and analysis website - says Mr Putin deftly deflected the blows of anti-Moscow propaganda in spite of his "rather poor knowledge of political and historic realities of Eastern Europe".
Maciazek says the Russian leader "skilfully weakened the narrative that compared his actions to Adolf Hitler", instead presenting the annexation as the final outcome of the collapse of the Soviet Union rather than Russia revisionism.
Mr Putin's popularity has soared and he is now more acclaimed than any Russian tsar in history for "gathering the Russian lands", says Gyula Mate in the Hungarian daily Magyar Hirlap. However, she adds that East European countries need not feel their borders are threatened.
'Who will be next?'
In Latvia, which has a large ethnic Russian minority, one commentator feels a looming military threat.
"Until recently, our army was seen as a symbolic structure [and] it did not seem realistic that an aggressive country might invade Latvian territory," Bens Latkovskis writes in the Neatkariga Rita Avize daily.
"Now the situation has changed. Russia already has army units in Crimea, and an armed invasion of continental Ukraine is now being considered as one of the possible scenarios for future developments."
He concludes: "Without coyness, these future scenarios are being described in terms of who will be next. We are on that list."
In Lithuania, events in Ukraine and Crimea have provoked similar unease about the future.
In the Lietuvos Rytas daily, commentator Andrius Uzkalnis asks readers to contemplate what it would look like "if what is happening in Crimea starts to happen in Lithuania".
In Lietuvos Zinios, Vytautas Landsbergis, Lithuania's first post-independence leader, says the "escalating war against Ukraine" reminded him of hearing air raid warnings on Radio Warsaw as a child at the start of World War Two.
He adds that the same warning - "Uwaga! Uwaga!" (Polish for "Attention! Attention!") - should be ringing in hesitant European leaders' ears when considering how to react to "the Kremlin aggression".
'Bad signal'
The Lithuanian ambassador to Ukraine, Petras Vaitiekunas, is quoted by business daily Verslo Zinios as saying that the Sunday Crimeans voted to join Russia was "the day when the world order collapsed, which for 69 years has guaranteed the peace of Europe".
"And there is no reason to think that the aggressor will stop or that Crimea will be enough."
What is most disturbing, he adds, is that Russia is "drenched in tears of joy and full of singing and dancing. This is a bad signal for us and the whole of Europe".
Journalist Ihar Draka, writing in the Belarusian opposition website Belorusskiy Partizan, says there is considerable hostile feeling towards Russia outside his country's tightly controlled state media.
"Non-government websites and Facebook condemn Russia and Putin as aggressors, imperialists and instigators of WWIII, hoping that they will break their teeth, arms, legs and spines in Ukraine."
But the tone of Czech daily Lidove Noviny is one of despair and frustration.
"Why is [Vladimir Putin] doing it? Because he wants to!" is the headline of a commentary by Zbynek Petracek.
He goes on to say that "Putin's signing of the annexation treaty is a done deal. This deal reflects the West's helplessness - all it could manage in response are declarations and sanctions - these are steps which simply cannot stop the Russian president."
The annexation of Crimea is almost certainly not Mr Putin's ultimate goal, Petracek argues. "His real goal is to change the rules of the global game - to prove that Russia is a respected superpower entitled to have its own spheres of influence and push through its interests… Crimea was annexed because it could be easily done."
A Georgian paper, Rezonansi, agrees that the West can do little to deter Russia: "Ridiculous sanctions - the West's punishment is greeted with ironic amusement in Moscow", it says in a front-page headline.
Georgia's foreign ministry has taken a firm stance in supporting Ukraine's territorial integrity and opposing the Crimean referendum.
BBC Monitoring reports and analyses news from TV, radio, web and print media around the world. For more reports from BBC Monitoring, click here. You can follow BBC Monitoring on Twitter and Facebook.