Ukraine crisis: Europe's security body to send monitors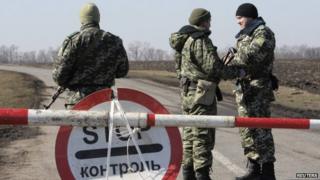 International monitors will be sent to Ukraine, after Russian diplomats dropped their objections.
European security organisation, the OSCE, will send advance teams within 24 hours to areas including the violence-hit south-eastern areas.
But the 100-strong monitoring team is not expected to go to Crimea, which was taken over by Russia last month.
Russian leader Vladimir Putin signed a law formalising Crimea's annexation on Friday, despite EU and US sanctions.
US-Russia row
The 57-member Organisation for Security and Co-operation in Europe reached a deal on Friday evening.
The Vienna-based group said that initially 100 civilian observers would deploy for six months in nine regions of Ukraine.
Up to 400 extra personnel could be deployed if necessary.
The areas the monitors are due to visit include Odessa, Donetsk, Dnepropetrovsk, and Luhansk, which have been recently rocked by clashes between pro-Ukrainian and pro-Russian activists.
"The decision itself calls for monitors to be deployed within 24 hours," said Daniel Baer, the US ambassador to the OSCE.
The US said in a statement that "it is clear that with the adoption of this decision this mission has a mandate to work in Crimea and in all other parts of Ukraine".
But Russian envoy Andrey Kelin responded by saying that Crimea had now become part of Russia and therefore the mission had "no mandate" to go there.
Western diplomats had blamed Russia for several failed attempts to agree such a mission in recent days.
Earlier this month OSCE monitors had to abandon their visit to Crimea after warning shots were fired at the border.
German Foreign Minister Frank-Walter Steinmeier said Friday's deal was "not the end of the crisis".
"It is a step that helps support our efforts toward de-escalation," he said.
McCain gibe
Earlier on Friday, the EU added 12 people to an existing list of 21 officials involved in Russia's annexation of Crimea.
They include Deputy Prime Minister Dmitry Rogozin and two close aides of Vladimir Putin, Sergey Glazyev and Vladislav Surkov.
The speakers of Russia's two houses of parliament, Valentina Matviyenko and Sergei Naryshkin - both at Mr Putin's side as he signed the Crimea law - were also included.
While the list targets several figures close to the Russian president, it does not hit his inner circle as hard as the sanctions announced by the US on Thursday.
In retaliation, Russia ordered travel bans and asset freezes for nine prominent US officials and lawmakers.
Senator John McCain, one of those targeted, joked in a tweet that he would have to cancel his spring break in Siberia.
Mr Putin said Moscow would not retaliate for the latest EU sanctions - although the Russian foreign ministry said there would be a response.
In Crimea itself, forces allied to Russia have been seizing Ukrainian ships and taking over military bases.
The new authorities in Crimea have invited those serving in the Ukrainian forces on the peninsula to switch sides and join Russian forces.
Are you in Crimea or the wider region? What are your thoughts on recent events? Email us at haveyoursay@bbc.co.uk with the subject heading 'Crimea'.