Will nuclear summit be damaged by rift with Russia?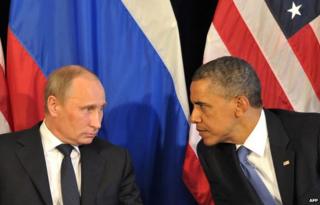 World leaders - with one notable exception - are gathering in The Hague for the latest summit in a series devoted to improving the security of nuclear stockpiles around the world.
Russian President Vladimir Putin is staying away, choosing to send his foreign minister instead. And the nuclear talks will be largely overshadowed by an emergency session of the G7 leaders to censure Russia over Crimea and Ukraine.
So, is there a danger that the international system designed to make the world safer could itself be damaged by the rift with Russia?
Before dawn on 28 July 2012, intruders broke into the United States nuclear weapons facility in Oak Ridge, Tennessee.
They cut through three fences, set off alarms and managed to pound on the wall of a building that housed enough highly enriched uranium for thousands of nuclear weapons, before finally being confronted by a single guard. They were protesters, but what if they had been terrorists?
'Embarrassing'
The subsequent inquiry found "ineptitude" among the guard force of private contractors and "multiple system failures" including broken security cameras that nobody had bothered to repair.
It was all very embarrassing for President Barack Obama. In 2010, he had launched the first in the series of Nuclear Security Summits culminating in this 2014 session of world leaders in The Hague.
The process of improving international co-operation to reduce the risk of highly radioactive material falling into the hands of terrorists is one of his big ideas.
Experts say that the regular involvement of heads of state and government has focused much greater effort on tackling the threats.
Any loss or theft of highly enriched uranium, plutonium and other radioactive sources is potentially very serious.
Clear agreements
About 140 cases of missing or unauthorised use of nuclear and radioactive material were reported to the global nuclear watchdog - the Internationals Atomic Energy Agency (IAEA) - in 2013.
Experts say real progress has been made and the amounts involved were small, but world leaders still face big challenges at this nuclear security summit.
The Dutch hosts want a final communique "containing clear agreements" to prevent nuclear terrorism by reducing stockpiles of hazardous nuclear material, making stocks more secure and intensifying international co-operation.
More than 120 countries exchange information on cases of theft, unauthorised access to sites where radioactive material is held, and illegal transfers.
Russia had the most and it was in Russia that the most serious nuclear incidents took place, according to the "Hague Security Delta", the largest network of specialist companies and government agencies in Europe.
It points out that the break-up of the Soviet Union at the end of the Cold War has made securing nuclear material in those territories particularly difficult.
So any risk of events in Crimea distracting attention from global concern over nuclear security will be very unwelcome at this summit.