Ukraine crisis: The weakness of Europe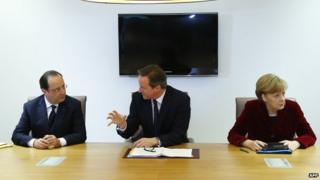 In both Washington and Moscow I suspect officials are asking the same question of Europe: "How strong is its resolve when it comes to Ukraine?"
This week brought a reminder that Europe's economies are still struggling to emerge from recession, that unemployment remains stubbornly high and that there is growing discontent with the political establishment in many countries.
So on Sunday in France the far-right National Front made strong gains in the first round of local elections, even topping the polls in several towns and cities.
Last week in local elections in the Netherlands the anti-immigration party of Geert Wilders won in the city of Almere and came a close second in The Hague, with his supporters chanting they wanted "fewer" Moroccans in their city.
On Saturday there was violence in Madrid, as tens of thousands protested against unemployment, poverty and corruption.
Grit and spine
These are just the news fragments from an average week, but they serve as a reminder that politically many European countries are still worn down by years of economic crisis, with a mood angry and mistrustful of political elites.
It is against this background that Europe's leaders are being asked to show grit and spine in a crisis which just weeks ago they could scarcely have imagined.
Many of them will gather again on Monday in The Hague with their resolve once again under scrutiny.
The meeting was intended to focus on nuclear security, but it will be overshadowed by the crisis in Ukraine.
The leaders of the world's seven largest economies - minus President Vladimir Putin - will have to fashion a response to Russian actions in Ukraine and Crimea.
They are meeting with a sombre warning from the Nato Supreme Commander, US General Philip Breedlove, ringing in their ears that the Russian force on the Ukrainian border was "very, very sizeable and very ready". All of this will raise pressure on the meeting to speak convincingly.
Privately the Americans say EU sanctions "are very limited and symbolic". But at their summit in Brussels last week the Europeans pledged to move to some form of economic sanctions if there was an escalation of Russian military action.
They have powerful tools to hurt Russia, but using them almost certainly will hurt Europe's economies as well.
US 'more resolute'
Europe's leaders believe their asset freezes and travel bans against 33 Russian and Crimean officials have sent a powerful message.
European officials last week insisted that the measures announced so far are having an impact. But President Putin scoffed at the moves. Ukraine's Ambassador to the UK, Volodymyr Khandogiy, said that Europe had not done enough to help Ukraine. "The US," he went on to say, "is more resolute in their actions and words".
What the Americans have done is to impose sanctions on some of the Russian president's inner circle and they have moved against Bank Rossiya - one of the Kremlin's favourite banks.
But powerful Russians spend much more time in Europe than in America. It is where they invest their funds, where they buy their football clubs, where they party and where often they choose to educate their children. Europe's leaders, if they chose, could still hurt those closest to President Putin, but so far they have been very cautious.
Other moves are no more than gestures: ending bilateral Russia-EU summits; declaring the G8 has been replaced by a G7 without Russia.
What is unclear is what precisely would trigger the Europeans moving to economic sanctions and whether it would be possible to maintain European unity. And without unanimity there can be no economic sanctions.
Would Italy, which gets nearly 30% of its energy from Russia, agree?
Would France actually be willing to cancel two state-of-the-art warships destined for Russia? The French Foreign Minister Laurent Fabius said that "if Putin continues doing what he's doing, we could envisage cancelling the sales but we will ask others, and I'm thinking namely the British, to do the same with the assets of the Russian oligarchs in London. Sanctions have to be shouldered by everyone." And that begs the question of whether the British would back financial sanctions at risk to their own interests? Other countries, dependent on Russia for their energy, have already signalled their opposition to economic sanctions.
'Pandora's box'
Talking to officials last week there is no doubt they understand the seriousness of the crisis and the threat to European security. It was perhaps best summed up by the German Foreign Minister, Frank-Walter Steinmeier, who said "I'm very worried the unlawful attempt to alter recognised borders in our European neighbourhood, 25 years after the end of the Cold War will open Pandora's box." Putin's moves are resurrecting deep fears and anxieties.
So at the meeting in The Hague the first task for President Obama will be to preserve allied unity. He will urge a stiffer response particularly against President Putin's inner circle.
Ultimately Russia's weakness is its economy. European officials point out that since the crisis began the Russian stock market has fallen sharply and the value of the rouble has declined. Europe has the means to turn the screw, to isolate Russian financial institutions from the markets and to freeze assets.
There would be retaliation, although Chancellor Angela Merkel believes it would be the Russian economy which would be damaged the more. But Europe has some convincing to do - that if the crisis deepens its words will deliver action.