Vatican committee: Abuse survivor Marie Collins 'will do her utmost' to represent victims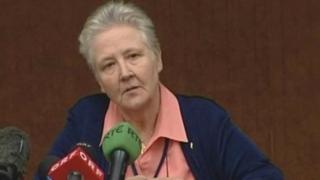 Abuse survivor Marie Collins has said she will do her "absolute utmost" to represent victims of abuse on a Vatican committee on protecting children.
She is one of eight members - four women and four men.
In December, the Vatican said it would set up the committee to improve measures to protect children against sexual abuse within the Catholic Church.
The scope of the commission remains unknown.
Pope Francis made the announcement on Saturday.
Ms Collins described the make up of the commission as "encouraging" because 50% of the group's members were female.
She said her appointment had taken her by surprise.
"I was calling for a survivors group to be on this commission. I never thought it would be me, but again I think it's a step forward that they're going to hear the victims voice," she said.
"It's fairly open because Pope Francis has made it clear that there are no rules set down.
"The eight members of the commission themselves will decide what issues they want to tackle, how they will go about the work and then they will recommend to the Pope what actions and practical steps they feel they need to be put in place to change from where we are now."
Ms Collins said she had gone through "periods of hope" over the years, only to have her "hopes dashed", but said she was taking on her role with an "open mind".
'Real change'
"I personally will do my absolute utmost to represent survivors and to push all the areas where I think change is needed," she said.
"If it's a pr exercise, then it will be devastating for the church and I think it's their last chance to show sincerity, but I do hope it's an indication that we're going to have real change and this issue will be properly tackled at last."
She said she expected the number of members on the commission to increase over time.
"We would be recommending other members from around the world because it's a world-wide issue and it has to be tackled world-wide and there has to be import from so many other countries," she said.
"I think Pope Francis, despite his disappointing statements a few days ago about abuse, is tackling issues very differently from his predecessors.
Cardinal Seán Patrick O'Malley, who revealed the initiative, is also on the commission.
Protection of minors
The initial members will be responsible for rounding out the "commission for safeguarding minors" with other experts from around the world and defining the scope of the group's action.
"Pope Francis has made clear that the church must hold the protection of minors amongst her highest priorities," Vatican spokesman Rev Federico Lombardi said in a statement.
"Looking to the future without forgetting the past, the commission will take a multi-pronged approach to promoting youth protection," he said.
These will include taking criminal action against offenders, educating people about the exploitation of children, developing best practices to better screen priests, and defining the civil and clerical duties within the Church, Rev Lombardi said.