Queen meets One Direction star Niall Horan at Buckingham Palace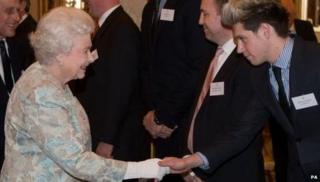 The Queen has hosted a reception for more than 300 Irish people including One Direction singer Niall Horan, X-Factor judge Louis Walsh and former boxer Barry McGuigan.
The Buckingham Palace event was held to mark the contribution made by Irish people in Britain.
A Palace spokesman said: "It was a really fun evening - great company and extremely relaxed.
"Her Majesty seemed to enjoy the craic."
The Queen and the Duke of Edinburgh met guests from the world of sport, business, politics, the arts and community work who were deemed to have made a positive contribution to Britain.
Also among the guests were fashion designer Orla Kiely, racehorse trainer Jonjo O'Neill, former Formula One racing boss Eddie Jordan, singer Imelda May and Father Ted writers Graham Linehan and Arthur Matthews.
Niall Horan described being at the palace as "mind-blowing".
"It's an absolute honour to be here with two great countries coming together - I couldn't believe it when I got the invitation.
"To have met Her Majesty again was a great experience," the singer said.
Graham Linehan had a handwritten letter from his eight-year-old daughter to hand to the Queen.
"We have never had anything other than an extraordinary welcome here," he said.
"I don't think the Irish contribution needs to be validated, as such, but if it is going to be validated then what better place to do so than Buckingham Palace."
He added: "I will certainly have something to tell my daughter."
More details will be revealed on Wednesday about next month's state visit of Irish President Michael D Higgins to Britain.
This will be the first state visit to the UK undertaken by the president of Ireland.
The Irish ambassador to Britain, Dan Mulhall, said there was "never a better time to be Irish in the UK".
"It is a wonderful occasion for the Irish community in Britain, the biggest Irish community anywhere in the world outside of Ireland," he said.
"They have made a huge contribution to Britain over the years, a huge contribution. Many of the people here tonight have been here for 40, 50 or even 60 years but they still have a proud Irish identity."
Northern Ireland Secretary Theresa Villiers said: "I think that the bilateral relationship is better than it has been at any time in the last 800 years. The president's visit is a wonderful opportunity for the Irish to celebrate the huge contribution they've made to life in Britain. This is a great curtain raiser to that."
She added: "Of course there are still many problems to be resolved in Northern Ireland, but it's wonderful to be here to celebrate the successes."
Preparations for President Higgins' state visit have been going on behind the scenes for months.
The intention is to build on the relationship that emerged when the Queen made her historic first visit to the Republic of Ireland three years ago.
At Tuesday's reception, the Queen talked again with fishmonger Pat O'Connell, whom she met during her visit to Cork.
Mr O'Connell said he was "surprised" to be quickly recognised by the Queen, who he said greeted him by saying: "You're here, have you bought any fish with you?"