Obama spells out Russia strategy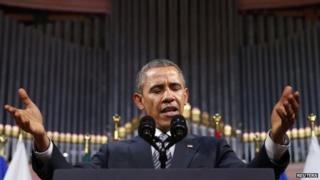 In a keynote speech to 2,000 people in a Brussels concert hall, President Obama set out his strategy for dealing with Russia over Ukraine.
He characterised the crisis as a contrast in ideas and beliefs between the West and Russia. He said that the annexation of Crimea had violated the beliefs that international law matters, that borders cannot be redrawn.
Once again, he said, Europe was confronted by those who believe that bigger nations can bully smaller ones, that might is right.
The president said, however, that this was not another Cold War. The West would prevail not by military action but by the power of its values.
With time, he said, Russia would realise that "brute force" cannot win. He very deliberately cast this crisis as a clash of ideologies. But the president said that if the Russian leadership continued on the path it was on then its isolation would deepen, sanctions would be expanded and Russia's economy would be damaged.
It was unclear whether European officials would agree to expand sanctions without Russia taking further military steps, however.
'Collective defence'
This visit was firstly about demonstrating that the United States and Europe were united but the president did some direct talking.
"If we have got collective defence everybody has got to chip in," he said.
He did not disguise America's frustration that Europeans have been cutting their defence capabilities. At a news conference he said "freedom isn't free".
When he met with European officials he also told them: "You cannot just rely on other people's energy, even if it has some costs, some downside."
It was a clear reference that Europe would have to compromise in areas like exploiting shale gas if it was to reduce its dependency on Russian oil and gas.
Before he left the Belgian capital he also met with Nato officials. They agreed to boost Nato's presence in eastern Europe among states that feel vulnerable to Russian pressure. There will be more Nato exercises in these countries.
The US president seemed to be preparing his audiences for a long struggle with Russia.