Germany to revise EU migrant benefits to stop abuses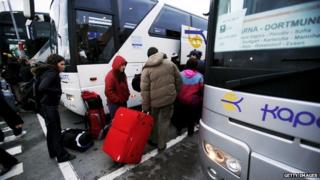 Germany's coalition government has welcomed an official report proposing new welfare limits for EU migrants.
"All of the coalition partners are happy with this interim report," said Interior Minister Thomas de Maiziere.
The recommendations are not yet law. Welfare abuses by EU migrants would be punished with a temporary entry ban. And a time-limit of three to six months is proposed for migrants to find a job.
An extra 200m euros should be spent to help integrate migrants, it says.
The report also envisages tighter controls on the child benefits paid to migrants.
The 133-page report was drawn up by a government-appointed commission and the final text will be released in June. It was prompted by concern about possible "benefit tourism" by EU migrants who might put an unacceptable burden on the welfare system.
In January the EU labour market was opened up fully to migrants from Bulgaria and Romania - the EU's poorest member states. That move fuelled concern in Germany, the UK and some other EU states about a possible influx of new migrants to areas already facing migrant pressure.
"We must not close our eyes to the fact that problems linked to immigration exist," said Mr de Maiziere, a member of Chancellor Angela Merkel's conservative Christian Democrats (CDU).
But he also said the general increase in EU migration "is good news".
The CDU is governing with its Bavarian sister party - the CSU - and the centre-left Social Democrats (SPD).
Pressure on services
German official data show that net migration from Bulgaria and Romania hit 75,000 last year, but Poles form the biggest category of EU migrants.
Besides Eastern Europeans, there has been a rise in immigration to Germany from Mediterranean countries hit hard by the eurozone crisis. Germany's vibrant economy and low unemployment are proving a magnet for other European workers.
The government says that in 2013 the unemployment rate among Bulgarians and Romanians in Germany was 7% - that is, half the average rate for migrants as a whole.
But Duisburg, Frankfurt, Hamburg and some other cities have become immigration hotspots, struggling to provide enough housing, school places and medical services for migrants.
Migrants account for 15% of welfare benefit recipients - benefits allocated under the "Hartz IV" system. That 15% totals 1.2 million people, of whom 290,000 are citizens of other EU countries, the government says.
The report says that just 0.7% of Hartz IV recipients are Bulgarians.