Russian Jews fear anti-Semitism amid Crimea fervour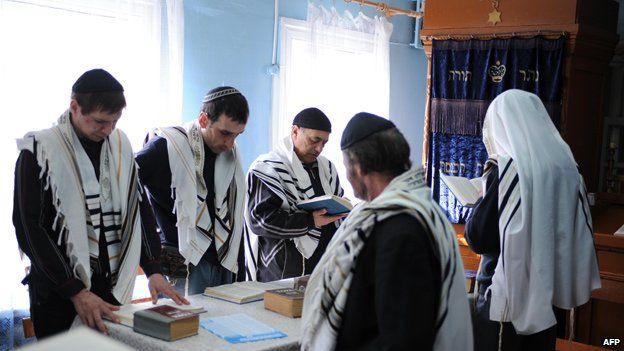 Members of Russia's Jewish community are voicing concern about tolerance of anti-Semitism in the media and other areas of public life, amid patriotic fervour generated by the Sochi Olympics and annexation of Crimea.
One state TV presenter even accused Jews of helping to bring about the Holocaust.
In his speech on 18 March proclaiming incorporation of Crimea into Russia, President Vladimir Putin said the "coup" that ousted former Ukrainian President Viktor Yanukovych had been engineered by "neo-Nazis, Russophobes and anti-Semites".
"They are the ones who to a large extent continue to dictate what goes on in Ukraine today," he declared.
All through the crisis in Ukraine, Russian TV channels have been hammering home the same message.
At the same time, say leading members of the Jewish community, some pro-Kremlin journalists have themselves been feeding anti-Semitism in Russia, in the language used to attack Mr Putin's opponents, who are being branded as "traitors" and "fifth columnists".
Outing Jewish writers who had adopted Russian-sounding pseudonyms was one of the tactics used in the anti-Semitic campaign unleashed by Soviet leader Joseph Stalin in the late 1940s.
According to the Russian Jewish Congress (RJC), state TV presenter Dmitry Kiselev was guilty of a similar ploy in an attack on 16 February on writers Viktor Shenderovich and Igor Irtenyev, who had both likened the Sochi Winter Olympics to Hitler's Summer Games in 1936.
Kiselev rejected Irtenyev's contention that the only significant difference between the two events was that Nazi Germany had a higher standard of living, and he told Rossiya 1 viewers that the poet's real name was Igor Moiseyevich Rabinovich - leaving little doubt as to his ethnicity.
He went on to say that under Hitler both Shenderovich and Irtenyev would have perished.
The RJC condemned Kiselev's remarks, saying it was "unacceptable when the ethnicity of an opponent is used as an argument in debate, or as additional grounds for criticising him".
Dubbed by The Economist "Russia's chief propagandist", Kiselev is one of the targets of EU sanctions imposed in response to the annexation of Crimea.
'People without a homeland'
The suggestive use of Jewish-sounding names also seems to have featured in an article by Aleksandr Grishin in pro-Kremlin tabloid Komsomolskaya Pravda about the opposition March for Peace on 15 March.
Headlined "Russia's 'true shame'" the article listed a number of people at the Russian march who, it said, applauded Ukrainian nationalists with alleged Nazi sympathies: "Makarevich, Bykov, Kats, Shats and Nemtsov" - all of them known to be Jewish or having Jewish-sounding names.
But, said RJC president Yuri Kanner, one of those listed - TV presenter Mikhail Shats - was not even there. "Why was he included? Because he is a Jew," said Kanner.
Kanner also took issue with the article's description of the marchers as "traitors" and "people without a motherland". The latter, he said, was a coded phrase for Jews.
This is not the first time that Komsomolskaya Pravda has faced accusations of anti-Semitism. Last May, another of its columnists, Ulyana Skoybeda, wrote on its website: "Sometimes you are sorry that the Nazis did not make lampshades out of today's liberals - there would be fewer problems."
The sentence was quickly removed and Skoybeda reprimanded. But editor Vladimir Sungorkin refused to sack her.
Evelina Zakamskaya, a presenter on state-owned news channel Rossiya 24, also got into a Holocaust controversy over a remark she made in an interview with Aleksandr Prokhanov, editor of the nationalist newspaper Zavtra.
Speaking about Jews who supported the "fascist" opponents of Mr Yanukovych in Ukraine, Prokhanov said: "Don't they realise that with their own hands they are hastening a second Holocaust?"
To which Zakamskaya replied: "They also hastened the first one."
This little exchange went largely unnoticed when it was first broadcast on 23 February. It was only when Zavtra quoted Zakamskaya on Twitter a month later that it got wider attention.
One of those who spotted the Zavtra tweet was a top Russian blogger and Israeli citizen, Anton Nosik, who delivered the following damning verdict: "The descent of state propaganda into total, undisguised Nazism is a logical and predictable process. But the pace at which the brown plague is currently creeping around the byways of state TV and radio is impressive."
Two deputies from the St Petersburg municipal assembly urged Rossiya 24 to take Zakamskaya off the air. So far, though, the station has refused to comment on the incident, says the Jewish.ru website.
According to Kanner, Zakamskaya's Holocaust comment was a direct result of the state broadcaster's failure to take action over Kiselev's attack on Irtenyev. "Acquiescence was taken as a hint and became a signal," he wrote on a blog on Ekho Moskvy's website.
It is not yet clear how this "signal" was received by society at large, he added. But, according to Jewish.ru, there is now a sense of a "shift in Russian public national politics towards openly anti-Semitic rhetoric".
A further example of this trend, it said, was a speech by controversial St Petersburg deputy Vitaly Milonov on 19 March calling for the feast of a Russian Orthodox saint to be made a public holiday. Milonov took pre-emptive aim at "neo-liberals", accusing them of having a "2,000-year-old tradition" of dishonouring saints going back to their "calls for the Saviour to be crucified".
Milonov is best known for his strong support for laws banning the promotion of homosexuality among minors.
The Federation of Russia's Jewish Communities condemned him for deploying "anti-Semitic stereotypes".
BBC Monitoring reports and analyses news from TV, radio, web and print media around the world. For more reports from BBC Monitoring, click here