Ukraine crisis: Klitschko pulls out of presidential election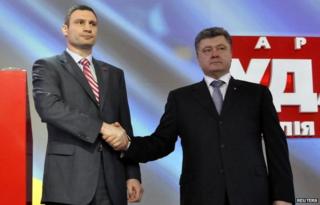 Leading Ukrainian politician Vitaly Klitschko has pulled out of presidential elections planned in May.
The former boxing world champion said instead he would back tycoon Petro Poroshenko.
Both men played a key role in months of street protests that led to the ousting of President Viktor Yanukovych.
Mr Klitschko's withdrawal means the race is likely to be between Mr Poroshenko and former Prime Minister Yulia Tymoshenko.
Several former supporters of the ex-president have also announced they will run. The Party of Regions, to which Mr Yanukovych belonged, on Saturday backed former Kharkiv governor Mykhailo Dobkin to run for the presidency.
The elections on 25 May are seen as a crucial step in leading Ukraine out of the country's deepest political crisis since its independence in 1991. An interim administration is currently in place in Kiev, led by acting President Olexander Turchynov and Prime Minister Arseniy Yatsenyuk.
Russia says the current authorities in Kiev came to power in a coup and are, therefore, illegitimate.
Ukraine - backed by the West - denies the claim.
Moscow formally annexed Crimea after the predominantly ethnic Russian region held a referendum earlier this month which backed joining Russia.
Kiev and the United Nations General Assembly have condemned the vote as "illegal".
In response to Moscow's move, the US and its allies have imposed sanctions on members of Russian President Vladimir Putin's inner circle, and threatened to take action to target the Russian economy.
On Saturday, Russian Foreign Minister Sergei Lavrov said Moscow had no intention of sending troops into the mainland Ukraine, despite a massive build-up of forces near the border.
Mr Klitschko, 42, announced his decision to pull out of the presidential race at his Udar (Punch) party's gathering in Kiev on Saturday.
"The only chance of winning is to nominate one candidate from the democratic forces," he said.
He stressed that a contender with "the highest chances to win should be running" for the presidency.
"Today, Petro Poroshenko is this candidate," he said, reminding supporters that the two politicians had stood and fought shoulder-to-shoulder at the protesters' main camp in Kiev - the Maidan.
Mr Poroshenko, 48, has already declared his intention to enter the race.
The owner of the popular Roshen chocolate company, he is widely known in Ukraine as the "chocolate king".
He has held a number of cabinet portfolios under different presidents in the past decade.
On Saturday, Mr Poroshenko said that - together with the Udar party - "we declare our goal is a new Ukraine".
"Our goal is to live in a new way. To form Ukraine in a way that there will be rich, free and honest citizens happy to be Ukrainians and to live in a country respected by the whole world."
Latest opinions polls give Mr Poroshenko about 25% of the vote, ahead of his presidential rivals, while Mr Klitschko and Ms Tymoshenko are lagging far behind.
However, the former 53-year-old former prime minister - who was released from prison last month following the overthrow of Mr Yanukovych - is expected to mount a strong campaign.
In all, 15 contenders are planning to challenge for the presidency.