Irish secret tapes: Prison calls to solicitors recorded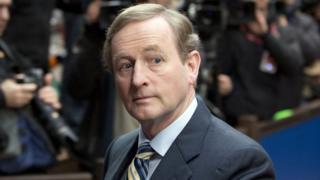 Confidential telephone calls between solicitors and prisoners have been recorded by the Irish Prison Service, the government has confirmed.
The details were revealed in parliament in Dublin on Tuesday by Taoiseach (Irish Prime Minister) Enda Kenny.
The prison service confirmed the conversations of 84 inmates were "inadvertently" recorded.
It comes exactly a week after it was revealed calls at Irish police stations had been taped since the 1980s.
Last Tuesday, the government announced it was setting up an inquiry into allegations of widespread secret recordings by police.
Witnesses in criminal investigations were among those whose calls were taped without their knowledge and the revelations are having an impact on some existing court cases.
Confidential phone line
It could also have implications for previous legal cases dating back many years.
The latest revelations of secret recordings in jails were reported to the government by the prison service within the past 24 hours.
In the Republic, inmates are given a confidential phone line to hold conversations with a named solicitor.
The state broadcaster, RTÉ, reported that the "inadvertent" recordings took place because some inmates had more than one solicitor acting for them, but only one of their lawyers was identified in prison service records as the inmates' legal representative.
It meant that when the prisoners spoke to any solicitor other that their single, named lawyer, their calls were inadvertently recorded.
No confidence
The prison recordings may also have the potential to affect criminal court proceedings.
Mr Kenny told the Dáil (Irish parliament) that the prison authorities took steps to rectify the situation as soon as they became aware of it.
The prison service is compiling a report on the matter for Justice Minister Alan Shatter.
Mr Shatter is currently facing a motion of no confidence in the Dáil.