Pilots' strike grounds Lufthansa flights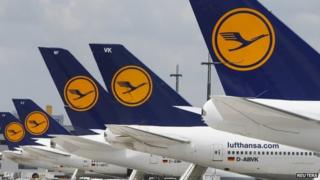 German airline Lufthansa has cancelled around 900 flights at the start of a three-day strike that is expected to affect some 425,000 passengers.
The airline says it expects a further 3,000 flights to be grounded by one of the biggest stoppages in its history.
Lufthansa says passengers are being booked onto other airlines or train services to minimise disruption.
The pilots want a new pay and pensions deal from the airline. Each side blames the other for the breakdown of talks.
The pilots' union, Vereinigung Cockpit (VC), argues that Lufthansa has failed to make a "negotiable offer".
Lufthansa is increasingly competing with low-cost airlines across Europe.
In a statement quoted by Reuters news agency, a spokeswoman for the airline urged the pilots to return to the negotiating table.
The airline's budget arm, Germanwings, and its freight carrier, Lufthansa Cargo, have also been affected by the strike.
However, other subsidiaries - such as Austrian Airlines and Lufthansa Cityline - are not affected.
'Passengers warned'
Lufthansa says it has tried to minimise disruption by offering passengers the chance to travel by other airlines or by train. It also says passengers were warned of the strike by email and text message.
Emergency sleeping arrangements and food have been prepared at large airports for those who did not get the warning messages.
There are no reports of major disruption at the airline's main hubs, Frankfurt and Munich airports.
Lufthansa says that the latest industrial action is likely to cost it tens of millions of euros.
The carrier had to cancel hundreds of flights last week when public sector workers went on strike at seven German airports in a separate dispute that had nothing to do with the airline.