No confidence motion in Justice Minister Alan Shatter defeated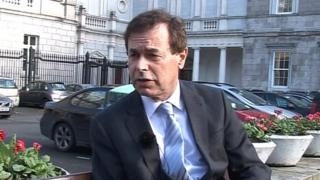 A motion of no confidence in Justice Minister Alan Shatter has been defeated in the Irish parliament (Dáil).
After two nights of debate, the motion was defeated by 95 votes to 51 on Wednesday evening.
The justice minister has come under huge political pressure in recent weeks over a number of controversies involving the police force.
The opposition Fianna Fáil party had been calling on Mr Shatter to step down.
The Irish government set up an inquiry following allegations of widespread secret recordings by police.
During the Dáil debate, Mr Shatter's government colleagues described him as efficient, hard-working, reforming, compassionate, and effective.
Minister for Finance Micheal Noonan accused the opposition of "not only playing the man, but trying to get the star player off the pitch".
However, opposition MPs criticised the minister.
Independent Mick Wallace said Minister Shatter was a "joke who had presided over one sham after another".
Fianna Fáil MPs repeatedly queried the events which led to the decision of the police commissioner to stand down.
Party leader Micheál Martin said that the inescapable conclusion was the former commissioner had been "scapegoated" to save Mr Shatter.
Last month, Martin Callinan stood down as the country's most senior police officer after dramatic revelations of a secret system recording telephone calls at police stations since the 1980s and revelations from police whistleblowers over the wiping of penalty points.
Mr Callinan said the recording systems were set up in the 1980s to enable police to record calls to and from control rooms in particular 999 calls, bomb threats and other messages.
The practice continued in some stations over the years with recordings retained in the stations.
Mr Callinan said all recordings except 999 calls ceased nationally on 23 November 2013.
It is feared the taped conversations could threaten the outcome of past and present court cases, as well as the findings of long-running state inquiries.
A state inquiry has been launched into the recordings.
Two other investigations into the suspected bugging of the official police watchdog's headquarters and whistleblower allegations of wrongdoing within the force are expected to be completed later this month.