MEPs urge Russia sanctions over whistleblower Magnitsky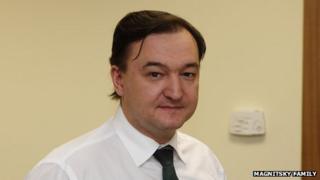 The European Parliament has urged EU governments to impose sanctions on 32 Russian officials over the death of a lawyer, Sergei Magnitsky.
The parliament's resolution calls for visa bans and asset freezes - measures that the US has already imposed.
Magnitsky died in prison in 2009 after accusing officials of tax fraud.
A Moscow court convicted Magnitsky himself of embezzlement posthumously - a trial seen in the West as a gross miscarriage of justice.
There is evidence that he suffered torture and neglect in prison. The US blacklist, in force since 2012, drew strong condemnation from Russia.
Acting on behalf of London-based Hermitage Capital Management, Magnitsky had exposed an alleged fraud in which government officials stole $230m (£138m; 169m euros) of tax revenue.
But instead of prosecuting any of the alleged embezzlers, the police arrested Magnitsky.
Frosty relations
The MEPs' resolution comes amid heightened tensions between the EU and Russia over Moscow's annexation of Crimea. The EU and US have imposed visa bans and asset freezes on senior Russian officials considered to be linked to the annexation.
Various politicians in Europe have urged their governments to adopt a US-style Magnitsky list. Last year the Irish parliament dropped plans for such a blacklist after Russia warned that it might stop adoptions by Irish parents in retaliation.
Many of the names on the proposed European Magnitsky list are also among the 18 named in the US list, including interior ministry investigators Pavel Karpov and Oleg Silchenko, and judge Yelena Stashina.
The European Parliament said the arrest and death in custody of Magnitsky represented a "well-documented and significant case of disrespect for human rights and fundamental freedoms in Russia", which had "cast doubt on the independence and impartiality of its judicial institutions, and serve as a reminder of the many documented shortcomings in respect for the rule of law in Russia".
The MEPs also condemned the "judicial cover-up" and "continuing harassment" of Magnitsky's mother and widow.