EU backs compromise on plane CO2 emissions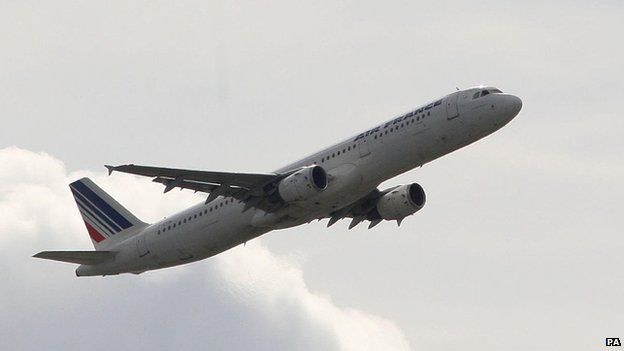 The EU will not levy a carbon emission tax on airlines when their planes are outside European airspace, the European Parliament has decided.
The exemption for airlines will apply until 2017, by which time a global deal on aviation emissions may be in place.
An EU tax will still apply for flights inside the EU. The new rules followed difficult talks with EU governments.
Aviation is a fast-growing source of CO2 emissions, blamed by experts for contributing to global warming.
The MEPs' vote on Thursday was a climbdown from more ambitious targets that the European Commission had originally proposed.
The US, China and India had complained about the EU's decision to tax international airlines for emissions.
The Commission now hopes that the International Civil Aviation Organization (ICAO) will reach a global agreement by 2017 to limit aviation emissions.
EU governments - jointly called the Council - wanted to extend the exemption until 2020, but MEPs decided that 2017 should be the deadline.
The emissions tax is part of the EU's Emissions Trading System (ETS), under which heavy emitters of CO2 buy and sell carbon allowances.
Addressing MEPs, the EU's Climate Commissioner Connie Hedegaard said "the Commission would of course have preferred and fought for a higher level of ambition.... it would've been better for Europe's self-respect and reputation and even more important, for the climate. But we are where we are".
The ETS was originally set up in 2005 to cover factories and other land-based emitters of CO2, but was extended to cover aircraft in January 2012.
Under the rules adopted on Thursday, the 28 EU member states will also have to report openly how they spend revenues from the ETS. The transparency drive is aimed at ensuring that the money is spent on measures to combat climate change.
Related Internet Links
The BBC is not responsible for the content of external sites.