Russia accuses 25 Ukrainians of planning terror attacks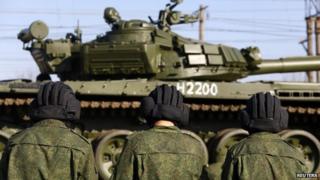 Russia's Federal Security Service (FSB) says it has detained 25 Ukrainians, accusing them of planning terrorist attacks at about the time of last month's Crimean referendum.
The FSB says they are members of ultra-nationalist movements and were preparing attacks inside Russia.
Ukraine's Security Service says Russian media reports that it had ordered any such attacks were "nonsense".
Tensions are high after Moscow's annexation of the Crimean peninsula.
Nato says Russia has tens of thousands of troops massed along its border with eastern Ukraine.
The BBC's Steven Rosenberg in Moscow says those detained by the FSB reportedly include three members of the Ukrainian nationalist group Right Sector.
The Ukrainians have been accused of taking photographs of Russian troop movements and of trying to make contact with extremist elements in Russia.
In a statement, the FSB said those being held had been planning attacks between 14-17 March in Russia's Rostov, Volgograd, Tver, Orel, Belgorod, Kalmykia and Tatarstan regions.
Earlier, government officials in Kiev levelled their own accusations against Moscow, claiming that more than 30 FSB agents had been involved in planning operations against anti-government protesters in Kiev earlier this year.
Ukrainian Security Service chief Valentyn Nalyvaychenko also said the FSB had sent "tonnes" of explosives and weapons by plane to Ukraine.
More than 100 protesters were killed in unrest that started last November when then President Viktor Yanukovych abandoned an association deal with the EU in favour of closer ties with Russia.
Months of street protests ended when Mr Yanukovych fled Kiev in February and opposition leaders formed an interim government.
Ukraine's new authorities have since signed the political part of the association agreement with the EU.
Also on Thursday, Ukraine's Interior Minister Arsen Avakov said an inquiry had shown that special police had been behind the killings of anti-government protesters in Kiev in February.
He said 12 members of the Berkut police had been identified as snipers and arrested.
He presented what he said was new evidence from the shootings on 18-20 February, when 76 people were killed.
'Same gun'
Mr Avakov said the inquiry had established that in one episode, eight of those killed were hit by bullets from the same gun.
Most of the demonstrators who died were killed on Instytutska Street near the main protest camp on Independence Square, widely known as the Maidan.
Shortly after Mr Yanukovych's downfall, Russia annexed Ukraine's Crimean peninsula following a referendum that Kiev and the West have called illegal.
Prime Minister Arseniy Yatsenyuk told the BBC that it was "crystal clear" that President Yanukovych and his allies were responsible for the killings of protesters - a claim denied by Mr Yanukovych who is now in Russia.
In other developments on Thursday, Moscow raised the price of its gas for Ukraine to $485 (£292) per 1,000 cubic metres - the second hike in two days.
The European Parliament also backed a proposal to cut customs duties on imports from Ukraine - a measure that is expected to save Ukrainian firms 487m euros (£404m) per year.