New French cabinet under PM Valls meets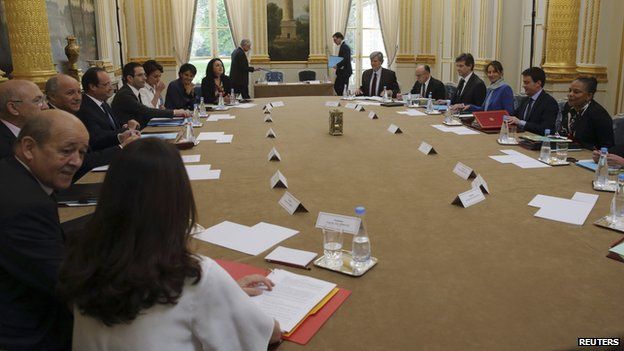 French President Francois Hollande is chairing the first meeting of his new cabinet, which includes his former partner Segolene Royal heading a new super-ministry for the environment.
The new prime minister is Manuel Valls, formerly interior minister.
Mr Hollande's Socialists suffered big losses in municipal elections, prompting him to reshuffle the cabinet.
Fixing the ailing French economy will be the new government's top priority. Major spending cuts are expected.
Mr Valls will set out the new government's policy plans in an address to parliament on Tuesday.
There are 16 ministers - a slimmed-down team from the previous cabinet's 38.
Ms Royal, mother of Mr Hollande's four children, heads a ministry in charge of ecology, sustainable development and energy.
Mr Hollande decided to split the economy portfolio into two posts: Michel Sapin takes charge of finance while Arnaud Montebourg is in charge of industry and economy.
Last month's local elections saw big gains for conservatives and the far-right National Front (FN).