Rabies kills man in France after visit to Mali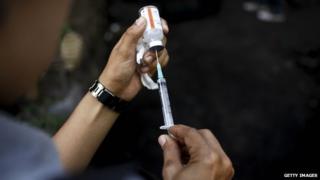 A man has died from rabies in a Paris region hospital after visiting Mali.
It is an extremely rare case for France, where the disease was officially eradicated in 2001.
Officials did not explain how the man had caught rabies in Mali. Africa accounts for nearly half the 55,000 human deaths worldwide from rabies every year, experts say.
The man's family and medics who treated him were sent to an anti-rabies centre for possible vaccination.
Bites from infected dogs are most often the source of rabies in humans, as the virus is carried in saliva. Human-to-human infection is extremely rare.
Vaccination can save a patient if it is administered before symptoms appear.
There has been no case of rabies being contracted by humans in mainland France since 1923.
Rabies has been diagnosed in about 20 patients in France since 1970, all of whom caught it abroad. The last death was in 2003.