Ukraine crisis: Old campaigners bid to be president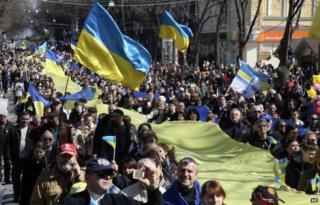 The top three candidates standing in Ukraine's 25 May presidential election are all familiar faces to the public, but their prospects have changed since the country's political upheaval. Campaigning will begin shortly.
Ukrainians are voting in early elections after President Viktor Yanukovych - who was backed by Russia - fled the country amid huge anti-government protests in February.
Parliament Speaker Olexander Turchynov, the interim president, is not standing.
The broad division is between candidates who favour closer ties with the European Union and those who are more pro-Russian.
Petro Poroshenko
Leading the most recent polls on 38% or even higher is Petro Poroshenko, 48, one of Ukraine's top businessmen. His ownership of the Roshen confectionery firm has earned him the nickname "Chocolate King".
He has been broadly aligned with the pro-Western camp for more than a decade, and his 5 Kanal TV - the most popular news channel in the country - takes a consistently pro-Western line.
He is counting on his ministerial experience and reputation for pragmatism. He served as foreign minister in a pro-Western government and foreign trade minister under President Yanukovych. He wants to improve relations with Russia, while firmly moving towards integration with the EU.
Specific pledges include devolution of power to the regions, which is aimed at mollifying pro-Moscow sentiment in the south-east, and "getting Crimea back" from Russia through diplomacy. He says he will not advocate joining Nato, as it is a divisive issue.
Analysts attribute his strong polling to frustration among pro-Westerners at their leaders' initial failure to unite during the protests. One influential protest leader, former boxing champion and Udar party chief Vitali Klitschko, has already endorsed him.
Serhiy Tihipko
Leading the pro-Russian camp is this former National Bank chairman and deputy prime minister, who was expelled from Mr Yanukovych's Party of Regions for putting himself forward as an independent candidate.
He won 13% of the vote and third place as candidate of his own short-lived Strong Ukraine party in the 2010 election, and is on 18% in most recent polls.
Mr Tihipko is trying to position himself between Moscow and the EU by promising to make Russian an official language and back devolution, while also reducing dependence on Russian gas supplies and developing a plan to "restore Ukraine's territorial integrity" - that is, to regain Crimea.
Yulia Tymoshenko
The telegenic Ms Tymoshenko lost to President Yanukovych in the 2010 presidential election and ended up in jail on corruption charges - widely regarded as trumped-up. She was one of the leaders of the 2004 pro-Western Orange Revolution and has served as prime minister twice.
Although adored by her supporters in the Fatherland Party, she also has many critics who see her as a wheeler-dealer politician with a line in overheated rhetoric. This is reflected in her latest poll rating of 11.6% - a fraction of the 25% she won in the first round of the 2010 election.
Her campaign repeats her familiar populist line of controlling food prices and fighting the power of big business. Any attempt at reaching out to the pro-Russian camp faces the challenge of overcoming her pugnacious anti-Putin statements.
Mykhaylo Dobkin
The Party of Regions and its powerful business backers have gone for an uncompromisingly pro-Moscow candidate in this former governor of Kharkiv region, whom the state security service has been investigating for promoting separatism.
He backs Russia's customs union and making Ukraine a federation, sharing a "common humanitarian space" with Russia.
His low poll rating of 1-4% would explain Party of Regions' anger at Mr Tihipko's independent candidacy, as his votes could have been expected to go to Mr Dobkin.
The nationalist right
Far-right Freedom Party (Svoboda) leader Oleh Tyahnybok and radical nationalist Right Sector chief Dmytro Yarosh are both standing, but are unlikely to get much more than 3% between them.
Standing would be a way of raising their parties' profiles ahead of parliamentary elections, where they hope to capitalise on their leading roles in the anti-Yanukovych protests. Svoboda won 10% of the vote in the 2012 elections.
BBC Monitoring reports and analyses news from TV, radio, web and print media around the world. For more reports from BBC Monitoring, click here. You can follow BBC Monitoring on Twitter and Facebook.