Hungary election: Triumphant PM Orban scorns critics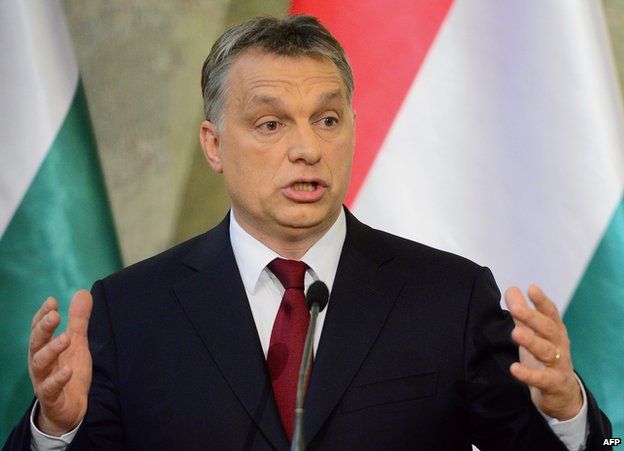 Hungarian Prime Minister Viktor Orban has dismissed international criticism after his conservative Fidesz party triumphed in a parliamentary election.
He said voters had given Fidesz "unquestionable" backing for its programme and constitutional changes.
An official from the OSCE international monitoring group, Adao Silva, said restrictive campaign rules and biased media coverage had helped Fidesz.
Mr Orban told the BBC that he had been backed by voters.
"The electorate gave their response to those opinions yesterday. They gave us a clear, unambiguous and sweeping advantage. There's nothing to talk about," he told the BBC's Nick Thorpe in Budapest.
The criticism from the Organisation for Security and Co-operation in Europe (OSCE) echoed previous criticisms from EU politicians about Mr Orban's expansion of state power in key areas such as justice and the media.
With almost all the votes counted, Fidesz won 44.5% - far ahead of the 26% for the Socialist-led opposition Alliance.
One in five Hungarian voters (20.5%) supported the radical nationalist Jobbik - an improvement on the 17% it got last time.
Fidesz will narrowly hold on to its two-thirds majority in parliament, with 133 seats. The Alliance will get 38, ahead of the 23 for Jobbik and five for LMP, Hungary's Green party.
During the campaign Fidesz insisted that deep reforms were needed to complete the work of eradicating the legacy of communism, and bring down the budget deficit below the EU's required 3% of gross domestic product.
Mr Orban said the election results showed that Hungarians wanted to stay in the European Union, but with a strong national government.
His previous term was overshadowed by a row with EU partners over constitutional changes in Hungary, which critics said undermined the independence of the judiciary and media. Various amendments were made after the EU pressed Mr Orban on the issue.
The Hungarian left has never fully recovered from its heavy defeat in the 2010 ballot, in which Mr Orban swept to power.
In his judgment on Sunday's election, the OSCE's chief election monitor Adao Silva said Fidesz "enjoyed an undue advantage because of restrictive campaign regulations, biased media coverage and campaign activities that blurred the separation between political party and the state".
Observers say Jobbik's adoption of a softer image has paid dividends, as a recent opinion poll found leader Gabor Vona to be the most popular opposition politician.