'Liechtenstein bank chief shot dead'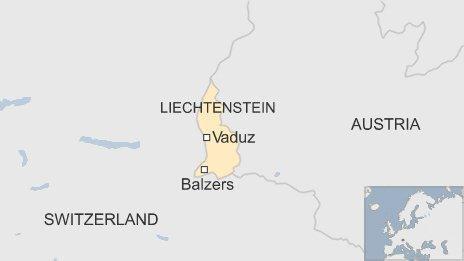 The chief executive of a private bank has been shot dead in the underground car park of his bank's headquarters in the principality of Liechtenstein, Swiss media report.
SRF online named him as Juergen Frick, head of Bank Frick, based in Balzers near the Swiss border.
Police confirmed the shooting of a 48-year-old man but did not name him.
Detectives named a former fund manager as the suspect and said they believed he may have taken his own life.
The suspect, Juergen Hermann, calls himself the "Robin Hood of Liechtenstein" on his website.
He is reported to have spent years feuding with Bank Frick and Liechtenstein's government over financial matters.
Liechtenstein police said officers had found Mr Hermann's passport which contained a hand-written note in which he confessed to the shooting and wrote "parting words".
They said that sniffer dogs had followed a trail to a stretch of the River Rhine where Mr Hermann's clothes were found.
Police said that although it appeared likely he had taken his own life, efforts to find him were continuing.
According to reports, Mr Hermann had been spotted on the car park's surveillance cameras.
Police quickly named him as the suspected gunman and warned the public that he was considered armed and dangerous.
Mr Hermann's car was later found abandoned in countryside near the Rhine, close to the borders with Austria and Switzerland.
Police sealed off a wide area and were using dogs and helicopters in the search.