New French PM Manuel Valls vows cuts in tax and spending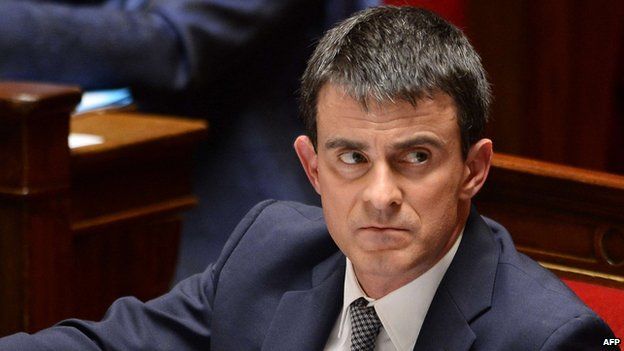 The new French Prime Minister Manuel Valls has vowed to cut both taxes and spending in a bid to make the French economy more competitive.
He said France had "too much suffering and not enough hope" as he promised to cut the country's large budget deficit.
Mr Valls also promised to cut labour costs by 30 bn euros (£25bn; $41bn) over two years to combat unemployment.
President Francois Hollande appointed Mr Valls last week after a poor showing by Socialists in local elections.
In his maiden speech to the French parliament, Mr Valls said he would remain committed to an EU agreement for France to reduce its budget deficit.
However, he said that he would not resort to austerity measures.
"I am all for respecting our commitments, for budgetary rigour, but not for austerity" he said, prompting cheers in the chamber.
He also criticised the monetary policy of the European Central Bank, saying it was harming French exports.
Mr Valls did not comment on whether he would seek an extension for an EU deadline for France to reduce the deficit.
France has already promised to reduce its deficit to 3% of output by the end of 2015 from 4.3% last year.
The French economy is currently struggling with weak economic growth and unemployment of around 11%.
Mr Valls, a former interior minister with a tough reputation, passed a vote of confidence in the French parliament shortly after his speech.
Deputies voted by 306 to 239 to support the new cabinet line-up.
Mr Hollande's Socialists suffered big losses in municipal elections last month, prompting him to reshuffle the cabinet.
There are now 16 ministers - a slimmed-down team from the previous cabinet's 38.
It includes Segolene Royal, Mr Hollande's former partner and the mother of his four children, who heads a ministry in charge of ecology, sustainable development and energy.
Last month's local elections saw big gains for conservatives and the far-right National Front (FN).