EU must help Italy with migrant influx - UN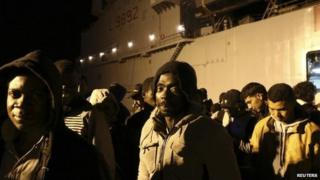 The EU must help Italy to deal with a dramatic upsurge in migrants and refugees, the UN's refugee agency (UNHCR) has warned.
The UNHCR said as many as 6,000 migrants had been rescued by Italian authorities in the past four days.
The agency wants the EU to help to process arrivals, provide more reception facilities and find "durable solutions" for the migrants.
Italy has repeatedly called for more support for the EU.
The latest influx of migrants were making their way in about 40 boats from Libya.
The UN said they had come from Syria, Eritrea, Somalia, Nigeria, Gambia, Mali and Senegal.
They included many women, children and newborns.