Ukraine crisis: What is happening where?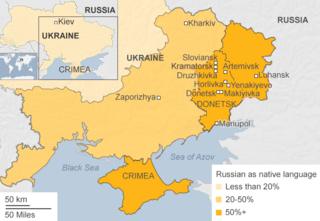 With pro-Russia forces occupying buildings in cities across eastern Ukraine, and the central government threatening to retake control by force, tension is building in the region. This is a round-up of the key cities affected.
Sloviansk
Tensions are at their highest in Sloviansk, in Donetsk region, where armed men seized a police station and other government buildings on 12 April and have since declared themselves to be part of a new "Donetsk People's Republic". Pro-Russian militia completely surrounded the town with checkpoints and there have been fatal clashes. It is, like many cities in the east, a mainly industrial town, and has a population of around 115,000. It is 100km (60 miles) from Donetsk and just 15km (9 miles) from Kramatorsk, which has also seen buildings seized by armed men of military-style appearance and organisation.
Druzhkivka
A local administration building was reported to have been seized in Druzhkivka, a town of about 60,000 near Sloviansk. Like many manufacturing cities in eastern Ukraine, it has declined since the end of the Soviet Union.
Yenakiyevo
Deposed President Viktor Yanukovych's home town, this city on the Krynka river is about 50km (30 miles) from Donetsk, the region's administrative centre. Another industrial city, with a population of around 185,000, it has coal mines, metal works, chemical factories and other manufacturing production. Yenakiyevo Iron and Steel Works is part of Ukraine's largest metal and mining group Metinvest. The Russian flag and the flag of the so-called "Donetsk Republic" are said to been hoisted over several seized government buildings.
Horlivka
Horlivka, a city about 20km (12 miles) north-west of Yenakiyevo, became a new flashpoint on Monday when protesters smashed their way into the main police station. Mining - on which the city was founded - and chemicals production - which has left the city with a disused and dangerous chemical factory - are two big local industries. Also known as Gorlovka, the city of around 260,000 is twinned with Barnsley in the north-east of England.
Kramatorsk
A group of camouflaged men armed with automatic weapons stormed a police headquarters in the city late on Saturday and have since built a barricade to prevent it being recaptured. Nato said the military appearance and organisation of the armed men indicated Russian military involvement. Kramatorsk is 70km (45 miles) north of the region's administrative centre Donetsk and has a population of about 165,000. Another city with industry and engineering at its heart, a wind turbine production facility was opened in the city a few years ago.
Artemivsk
The city hall was reportedly seized on Sunday, with the flag of the self-proclaimed "Donetsk republic" flying above it. About 80km (50 miles) north of Donetsk and with a population of less than 80,000, it is probably most famous for the Artyomsol salt mine, which tourists can visit and which contains a room so large it is sometimes used as a concert hall.
Kharkiv
While some other cities have seen little resistance to takeovers by pro-Russia forces, in Kharkiv days of clashes have taken place between pro- and anti-Russia protesters, after the latter seized regional government buildings on 6 April, before being evicted. Attempts to occupy buildings have continued since, as has violence at rallies in the city. With 1.5 million inhabitants, Kharkiv is the largest city in the east and the second largest in Ukraine. As well as the heavy industries found elsewhere in the east - its football team is called Metalist Kharkiv - it is also a centre for electronics, culture, aerospace industries and tank production.
Makiyivka
Pro-Russia activists seized the town hall at the weekend, following a large rally. It lies so close to Donetsk (25km; 15 miles) it is almost the same city but nonetheless has a sizeable population (approximately 355,000) of its own, and a similarly large steel- and coal-based economy.
Donetsk
The seizure of the Donetsk regional government building and subsequent declaration of a "Donetsk People's Republic" on 6 April helped kick-start the latest round of secessionist direct actions. That occupation continues, with barricades and crowds of supporters still surrounding the building. Men wearing the uniforms of the Berkut - the feared riot police squad disbanded in February after former President Viktor Yanukovych fled - also entered the police headquarters. A city of nearly one million inhabitants, an economically important part of Ukraine's so-called "rust belt", and the administrative capital of the region, it is crucial to the success or failure of any bid to leave Ukraine. It was also founded in 1869 by Welsh businessman John Hughes, who opened coal mines and a steel plant in the area. The town was even originally called Yuzovka, after the local pronunciation of his surname: Yuz. Both industries persist to this day. Local media even reported a recent tongue-in-cheek campaign for the city to join the UK, based on those historic links.
Khartsyzk
The town hall in Khartsyzk has also been seized. It is 30km (18 miles) from Donetsk and has a population of less than 60,000. Another industrial town, its particular engineering forte is pipe production.
Mariupol
Separatist protesters who seized the mayor's office in on Sunday, have reinforced the barricades around the building and declared a new "mayor". Mariupol is on the north coast of the Azov Sea and just 50km from the Russian border. It is also large, with around 465,000 people and a economy based around iron, steel, machine building, the grain trade and its port. It has a significant Greek minority. It ultimately began as a Cossack fortress in the 16th Century. Cossacks were a very visible presence at the recent annexation of Crimea, as staunch supporters of Russia.
Zaporizhya
Much further west than most of the other cities affected, the local response to attempted pro-Russia activism has also been less enthusiastic. Local media reports said that pro-Russia protesters were outnumbered, booed and pelted with eggs by rival united-Ukraine protesters at a demonstration on Sunday. Based on the banks of the major Dnieper river, it is the administrative centre of Zaporizhia region and one of Ukraine's largest, with a population of over 770,000. Industrial, but with a slightly more diverse economy than some of the cities affected in the recent actions, it makes cars, aircraft engines and other products as well as the metallurgy and chemical industries found right across eastern Ukraine.
Luhansk
Luhansk is another of the cities that helped start the latest round of pro-Russia building seizures on 6 April, when armed pro-Russia militants forced their way into a building belonging to Ukraine's security services and demanded that separatist leaders arrested days earlier be released. Like Donetsk, it is the administrative centre of an eastern region, with a large (up to 430,000) population and an industrial economic base that can trace its origins back to a British industrialist. As with Donetsk, there have been reports of a probably not-so-serious "campaign" for the city to join the UK too. It is about 30km from the Russian border.
Others
Disturbances have also been reported in Ilovaysk, Dobropillya, Kostiantynivka, Snizhne and elsewhere.