Could use of force in Ukraine's east backfire?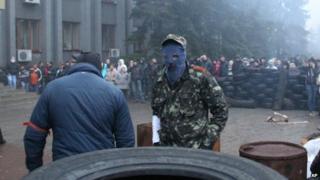 Ukraine's President Oleksander Turchynov has issued an ultimatum to pro-Russian activists and gunmen in the country's east - lay down your arms and vacate government buildings by Monday morning, otherwise the government will call in the army.
It would seem he has no time to lose. Large parts of eastern Ukraine are slipping out of Kiev's control.
More and more police stations and government buildings have been falling to the protesters and unidentified militants.
Donetsk, Luhansk, Sloviansk, Kramatorsk, Druzhkivka - these are the cities or towns where the activists have established themselves, with reports of building takeovers in Mariupol and Yenakiyevo.
Ukraine's state security head, Valentyn Nalyvaichenko, was categorical: "We don't have much time left. Tonight and tomorrow will be crucial."
Red lines
But, according to the government, this is not a home-grown insurrection.
Mr Turchynov repeated accusations, supported by western officials, that Russia is behind the tumult.
Many of the gunmen carry Russian weapons and look very much like the Kremlin forces who took Crimea.
"The aggressor has not stopped and is continuing to sow disorder in the east of the country," he said.
Ukraine's newly installed leaders have already set down a red line. They say they will respond to Russian incursions into the country with force.
Now, they say, this line has been crossed.
However, the Kremlin has also drawn its own line.
Russian officials have said Kiev must refrain from any violence against the protesters, otherwise it risks "sparking a civil war" in the country.
Moscow has declared it has "no intention" of sending troops into Ukraine.
But, Russia's legislature has also authorised President Vladimir Putin to intervene in Ukraine militarily, if Moscow's interests are threatened.
These interests, according to Mr Putin, include Ukraine's Russian-speaking population - though the overwhelming majority of them are in fact ethnic Ukrainians.
But a military crackdown on the protesters carries not just a threat from abroad. There are internal risks as well.
If what the Kiev, Washington and Brussels officials say is true - that Russian organisers and special forces are among the activists - there are apparently still a number of locals there, too.
It bears remembering that this government was itself swept into power on a wave of outrage at the deaths of Ukrainians at the hands of former President Viktor Yanukovych's government.
Sceptical
The people in the east of the country are Ukrainian citizens. Many of them say they do not want to see the country divided.
And so far there has been an upsurge of unity and patriotism, driven by the perceived threat from Russia.
But many of them also remain sceptical of this new government. They believe it is made up of people from the country's west and centre, who do not have their needs and concerns at heart.
Others are on the fence. They are waiting to see what the next days will bring. If there is bloodshed, it may turn them against Kiev.
"All of the people here are against the government - even those who went to the capital to demonstrate," said Yulia, a local journalist in Sloviansk.
"They came back from there, and they saw a bunch of oligarchs made governors - just the people they were fighting against," she said.
"They may not entirely like the taking over of the police station, but people here are angry."