Muddying the waters in Ukraine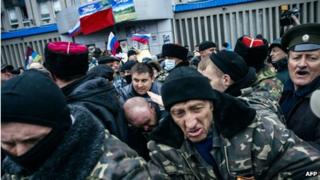 For weeks the Kiev authorities have feared a possible Russian invasion. And Western powers have warned Moscow to pull back its massed troops from near the Ukrainian border or else.
But now the crisis has come, instead of Russian tanks rolling into eastern Ukraine, it has turned out to be something more insidious and less clear-cut.
Many of the most recent groups seizing buildings and setting up roadblocks in the east of the country have looked well organized and professional.
Journalists on the scene have reported that those involved are often masked, or in identical uniforms, or carrying arms they seem prepared to use.
Sometimes they've arrived together by bus. Sometimes they've been seen giving or taking orders, and then disappearing. Some have had distinctly Russian accents.
Certainly among them there are disenchanted locals. But the ringleaders, those instigating the most serious acts of defiance, have looked suspiciously like specially trained forces, sent in deliberately to stir up unrest and challenge Kiev's ability to maintain control.
Shifting the blame
Russian officials, of course, dismiss out of hand any Moscow involvement and insist this is a grassroots protest by locals, desperate to preserve their region's close ties to Russia and fed up with what they see as an illegal government in Kiev.
The recent uprisings, goes the argument, were not ordered by Moscow, but are simply the result of locals taking matters into their own hands "out of despair".
No wonder Russian officials repeatedly insisted there were no plans to "send Russian troops across the border".
President Putin does not want to bear responsibility for starting a war.
Instead, as his Foreign Ministry on Sunday night made clear, he wants the Kiev government to take the blame, either for failing to restore order, or for using the army against its own people.
Either way, Moscow stands to win, calculating that a weakened Kiev may then be forced to do what Moscow has been demanding all along: allow Ukraine's eastern industrial belt to detach itself from central government and build instead closer ties with Russia.
Elections and sanctions
So where is this crisis heading? Much will depend on what happens on the ground in eastern Ukraine in the next few days. Given the fast pace with which events unrolled in Crimea it's hard to predict what might happen next.
Clearly what Russia wants to avoid is a presidential election in Ukraine at the end of May which manages to vote in a new president in a credible election with a mandate to rule throughout the country.
So further destabilization before then seems likely, as will be calls to boycott the election as the date draws closer.
Further afield, more Western sanctions against Russia are surely on the cards.
The US has already said as much, though getting a consensus from all 28 EU members may prove more complicated when they are facing not a clear-cut Russian invasion but a murkier meddling which is harder to prove.
In theory, current tensions could be eased at diplomatic talks already planned for Thursday in Geneva.
They are supposed to bring together the US, the EU, Ukraine and Russia.
But if Russia sees no sign of Kiev being willing to give way on the crucial question of devolution in eastern Ukraine, Russian Foreign Minister Sergei Lavrov has already signalled he may not turn up.
More generally a slow divorce between Russia and the West is quietly underway.
Sanctions apart, individuals, companies and governments are already taking steps to disengage: repatriating profits, cancelling orders, suspending bilateral co-operation and readjusting plans for the future. The process is patchy.
Some East-West collaboration and contacts are unaffected.
But as the crisis in Ukraine deepens, the gap between the two sides widens, making it ever harder to reverse.