Obama cautious over deal to ease Ukraine crisis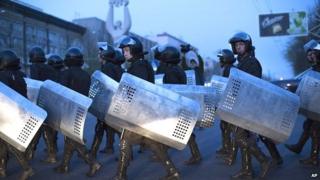 US President Barack Obama has cautiously welcomed a deal to calm tensions in Ukraine, reached at multi-party talks in Geneva.
He said the US and its allies were ready to impose new sanctions on Russia if the situation failed to improve.
Pro-Russian separatists occupying official buildings in eastern Ukraine show no signs of giving up any ground, a BBC correspondent reports.
There are reports of some shooting in Serhiyivka, in Donetsk region.
Ukrainian paratroopers opened fire to remove a protesters' roadblock in Serhiyivka, Interfax-Ukraine reported, quoting local sources. The details have not been confirmed.
On Thursday the Russian, Ukrainian, EU and US foreign ministers agreed that illegal military groups in Ukraine should leave places they have been occupying.
Russia denies fomenting separatism in eastern and southern Ukraine.
One protest leader in Donetsk said the separatists would not leave unless pro-European demonstrators in Kiev's Maidan Square packed up their camp first, the BBC's James Reynolds reports.
Media spotlight on Putin
Russian newspapers devoted their front pages on Friday to President Vladimir Putin's four-hour televised phone-in, rather than the Geneva talks.
"Vladimir Putin: You don't need to worry about a thing" said the front-page headline in Rossiskaya Gazeta, while Kommersant bore the headline: "Putin charts a stubborn line".
Mr Putin was repeatedly applauded by Russians during the live event, in which he demanded firm security guarantees and equal rights for Russian speakers in Ukraine.
Government buildings in several towns and cities have been seized by pro-Russian separatists opposed to new Western-leaning interim authorities in the capital Kiev.
At the Geneva talks, the sides agreed that illegal military groups in Ukraine must be dissolved, and that those occupying buildings must be disarmed and leave them.
The foreign ministers also agreed that there would be an amnesty for all anti-government protesters.
US-UK resolve
But speaking in Washington just hours later, President Obama expressed scepticism as to whether Russia would keep its side of the bargain.
"My hope is that we actually do see follow-through over the next several days, but I don't think, given past performance, that we can count on that," he said.
"We have to be prepared that we can actually respond to what continue to be efforts of interference by the Russians in eastern and southern Ukraine," he added.
In a telephone call with UK Prime Minister David Cameron, the two leaders agreed that the United States and Europe are prepared to take further measures to impose a new round of sanctions if Russia failed to help restore order.
"We have put in place additional consequences that we can impose on the Russians if we do not see actual improvement of the situation on the ground," Mr Obama said.
The UK is to provide an additional £1m to support the expansion of the OSCE special monitoring mission in Ukraine.
Washington and the EU have already imposed sanctions on key Russian and Ukrainian political and business officials.
UN chief Ban Ki-moon said he was encouraged by the outcome of the talks and that he expected all sides to "show their serious intention" to implement the agreement.
Earlier on Thursday, Russian President Vladimir Putin said he hoped he would not have to use his "right" to send Russian forces into Ukraine.
Clashes
Moscow is believed to have thousands of troops massed along the border with its neighbour.
"I very much hope that I am not obliged to use this right and that through political and diplomatic means we can solve all the acute problems in Ukraine," he said.
He was speaking after Wednesday night's clash in Mariupol, eastern Ukraine, in which three separatists were reportedly killed by Ukrainian security forces after hundreds of pro-Russians attacked a military base.
Ukraine has been in crisis since pro-Moscow President Viktor Yanukovych was toppled in February.
Russia then annexed the Crimean peninsula - part of Ukraine but with a Russian-speaking majority - in a move that provoked international outrage.
This was followed by the seizing of government buildings in eastern Ukraine by pro-Russian separatists opposed to the new order in Kiev.