Ukraine: Media cautiously welcome Geneva deal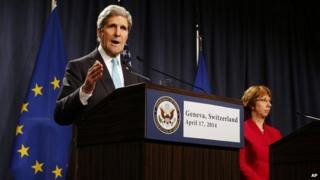 Ukrainian press and social media commentators see some advantages in the Geneva agreement aimed at defusing the country's crisis, though there is also sharp criticism.
Some see it as a defeat for Kiev, while others say that, at the very least, it buys it time.
Russian papers are upbeat about what they consider Moscow's ''success'' at the talks.
The Russian, Ukrainian, US and EU foreign ministers struck a deal on Thursday stipulating that illegal armed groups in Ukraine should leave the places they have occupied, disband and disarm. 
'All tired'
A pundit commenting in the Ukrainian daily Segodnya sees light at the end of the tunnel, but thinks a final resolution is a long way away.
"All parties involved, we and the Russians, are tired and willing to find a compromise,'' pundit Vadym Karasyov told Segodnya. ''It is good that Russia is not taking the risk of an open confrontation with the West. But a path to a real compromise is not going to be short."
"This is an acceptable decision for Russia: its economic situation is catastrophic and new sanctions will only aggravate it," Segodnya quotes pundit Oleksandr Paliy as saying.
But the Kiev-based Levyy Bereg news website is scathing, describing the Geneva deal as ''yet another shameful agreement''.
On social media sites many prominent commentators agree. "The Geneva agreements attest to the failure of rules and global security guarantees,'' pop singer and public activist Ruslana Lozhychko writes in her blog on the Ukrayinska Pravda news website.
Popular journalist and blogger Mustafa Nayyem says in a Facebook post that ''you have to be a clinical diplomat or to have the name Ashton or Kerry to sincerely believe that Crimea is enough for Vladimir Putin."
Others are more upbeat. ''Considering the circumstances, the accords seem to be advantageous rather than disadvantageous for Ukraine," comments Yuri Romanenko, political analyst and editor of the Khvylya website.
''We all understand that the papers signed by Russia are not to be trusted. However, any negotiating process buys us extra time. Each day without war makes us stronger," says journalist and blogger Serhiy Vysotsky.
'US heeds Russia'
In Russia, Aleksandr Artemyev writes in the business paper RBK Daily that "surprisingly, the four-sided talks between foreign policy chiefs of the EU, Russia, the USA and Ukraine have ended in success."
And Yevgeny Shestakov says in Rossiyskaya Gazeta that Russia gained from the talks.
"Russian Foreign Minister Sergei Lavrov's participation in the Geneva talks allowed Russia to convey its position not just to those directly involved in the talks, but also to the international community. The joint Geneva statement shows that Washington has heeded that view. And this inspires hope," said Shestakov.
In a piece in Izvestiya headlined "Russia, US, EU come to terms on Ukraine", Petr Kozlov says that the meeting was not easy. But, he says, "the Russian side was ready for it".
Denis Tukmakov says on the news website Zavtra that ''the militia - whose representatives very conveniently could not come to Geneva and therefore signed nothing - are still free to act as they wish''.
BBC Monitoring reports and analyses news from TV, radio, web and print media around the world. For more reports from BBC Monitoring, click here. You can follow BBC Monitoring on Twitter and Facebook.