Turkey's president downplays job swap with Erdogan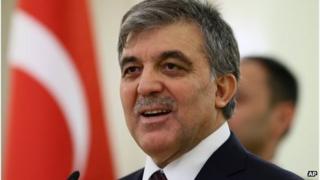 President Abdullah Gul of Turkey appears to have ruled out a job swap with Prime Minister Recep Tayyip Erdogan when his term ends in August.
Mr Erdogan has not confirmed he will stand for president but the largely ceremonial office is being strengthened and he is tipped to run.
Mr Gul is an ally from the ruling Justice and Development Party (AKP) but has differed with the prime minister.
He told reporters a tandem would not be "appropriate" for a democracy.
He had been asked if he and Mr Erdogan might follow the example of Russia, where President Vladimir Putin swapped roles with his ally Dmitry Medvedev for a term before returning to the Kremlin.
"I don't have any political plan for the future under today's conditions," he told reporters in the western province of Kutahya, when asked about the presidential election.
Correspondents say that Mr Gul's remark throws open the question of who might succeed Mr Erdogan as prime minister when his final term expires.
Turkey's president was previously chosen by parliament but will be elected directly this year for the first time.
Mr Gul has been seen as a more conciliatory figure and a check on Mr Erdogan's more hardline impulses, analysts say.
The AKP has won six consecutive elections, at national and local level, maintaining a solid base of support among the working class and religious people.