Ukraine shooting highlights Russian media tactics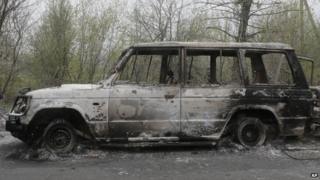 Russian TV channel LifeNews's sensational and emotive reports about the shooting outside the east Ukrainian town of Sloviansk have caused controversy and accusations of fakery, with their shots of crisp dollar bills and a business card said to belong to ultranationalist Right Sector leader Dmytro Yarosh. But they also provide a classic case study in the methods used by pro-Kremlin media to shape public opinion about the conflict in Ukraine.
LifeNews is a news channel known for its close relationship with the Russian security forces and is unswervingly loyal to the Kremlin. It has broken a number of stories connected with Sloviansk, a pro-Russian stronghold in eastern Ukraine.
1. Right Sector
LifeNews's claim that Mr Yarosh's business card was among the articles recovered from cars used in the alleged attack near Sloviansk on 20 April is in keeping with the pro-Kremlin media's recurrent message that Right Sector is responsible for virtually all the violence that has occurred in Ukraine in recent months. In some cases, at least, these claims are questionable. On 7 April, Russian TV reported how pro-Russian activists in the eastern city of Kharkiv had rounded on Right Sector activists who were said to have attacked them. But young mathematician Serhiy Melnyk gave a different version of what appear to be the same events. Writing on Facebook, he described how he was among a group of people set upon and badly beaten by "aggressive" pro-Russian activists after attending a concert in Kharkiv in support of the revolution that unseated President Viktor Yanukovych - the so-called Maydan.
2. Foreign interference
Among the objects LifeNews cameras singled out from among the haul said to have been abandoned by the Sloviansk attackers was an array of crisp-looking 100-dollar bills. LifeNews also quoted the self-styled "mayor" of Sloviansk, Vyacheslav Ponomarev, as saying that the gunmen had used "Nato weapons". These are just two examples of how Russian TV has been suggesting that America and the West are somehow behind or even involved in the violence in Ukraine. Last week, state TV used reports about a visit to Kiev by CIA director John Brennan to suggest the USA was partly to blame for "unleashing civil war in Ukraine". It also alleged that personnel from US private security firms were involved in the conflict, though it produced no evidence for this beyond vague reports about troops said to be wearing unmarked or unfamiliar uniforms.
3. Nazi connection
When Mr Ponomarev was showing off the haul from the "gunmen", he drew particular attention to a World War II German machine-gun. "Our opponents continue to promote their fascist ideology, and not only that, since they are using the weapons of their teachers," he told LifeNews. Russian TV has relentlessly promoted the idea that the Maydan protests have unleashed fascism in Ukraine. At the beginning of March, it alleged that in west Ukraine insulting posters were being used to single out the homes of Russians just as Nazis once used Stars of David to brand Jews. But no evidence was produced for this beyond a shot of the poster itself. Pro-Maydan activists in Ukraine are routinely referred to as followers of Stepan Bandera, the controversial nationalist leader accused of collaborating with the Nazis.
4. Sacrilege
LifeNews presented the alleged attack near Sloviansk as a kind of sacrilege. Not only had it contravened the 17 April Geneva agreement and Kiev's promised Easter ceasefire, said the correspondent, but it occurred "right at the very moment when the Easter services were being held in churches". Even more emotive religious language was used during a talk show on official Russian channel Rossiya 1 on 15 April, which suggested that the conflict in Ukraine was in part a religious one. "They are crucifying Orthodox Christians during Passion Week," a pro-Russian churchman from the southern Ukrainian city of Odessa told the programme.
5. Justification
LifeNews followed its reports from the scene of the shooting with footage of Mr Ponomarev calling on President Putin to send in Russian "peacekeepers" to "protect us from Right Sector and the Ukrainian National Guard, who bring only death with them and want to make slaves of us". Prior to Russia's annexation of Crimea in March, Russian state TV aired footage of what it said was a gun battle in the region's capital, Simferopol. As Ukrainian media NGO Telekrytyka pointed out, this video was used as justification for the Russian upper house of parliament to sanction Mr Putin's use of troops in Ukraine. But, said Telekrytyka, the episode was later shown to be a "hoax". Similar doubts are being raised about aspects of the attack in Sloviansk.
BBC Monitoring reports and analyses news from TV, radio, web and print media around the world. For more reports from BBC Monitoring, click here. You can follow BBC Monitoring on Twitter and Facebook.