Irish police crack down on drivers using mobile phones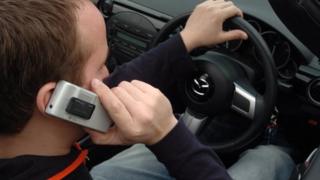 Police in the Republic of Ireland have launched a crackdown on motorists who use their mobile phones while driving.
The operation will take place on Thursday and Friday.
Assistant Garda Commissioner John Twomey said mobile phone use while driving is now the second-highest motoring offence.
Almost 10,000 people in the Republic were detected holding a mobile while driving in the first three months of 2014.
Commissioner Twomey said that was an increase of 60%, and that there was a four-fold increase in the risk of having a collision when using a mobile.
He told RTÉ, the Irish state broadcaster: "We're trying to get people to stop using a mobile phone because of the dangers and risks posed.
Court summons
"We don't want to issue fixed charge notices. We want people to stop using it."
Motorists will also face a fine of up to 1,000 euros from next month if caught texting on their mobile phones while driving.
Anyone caught texting or accessing information on mobile phones will be given a mandatory court summons and a fine.
New legislation recently introduced by Transport Minister Leo Varadkar means a convicted driver faces a maximum fine of 1,000 euros for a first offence and a fine of up to 2,000 euros for a second offence.
Motorists who are caught three times within a 12-month period could face a possible jail term of up to three months.
Meanwhile, a total of 153 motorists were arrested on suspicion of drink-driving over the Easter weekend.