Russia extends opposition leader Navalny's house arrest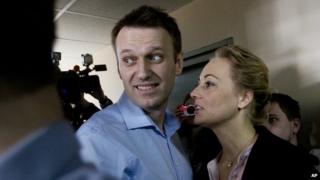 A Moscow court has extended the house arrest of Russian opposition leader Alexei Navalny by another six months for violating its conditions.
His supporters had feared he might be jailed because he was accused of using social media sites despite a ban.
He and his brother Oleg are currently on trial, accused of defrauding firms of 31m roubles ($866,000; £517,000).
It is the latest in a series of criminal cases against Navalny, who says they are politically motivated.
Navalny is an anti-corruption crusader and one of the chief critics of President Vladimir Putin.
He is already serving a five-year suspended sentence for the alleged theft of 16m roubles ($448,000; £267,000) from a timber firm in 2009.
Under the terms of his house arrest, first imposed in February, Navalny is barred from receiving visitors or communicating on social media.
But on Tuesday, he was fined 300,000 roubles (£5,000; $8,400) by a court in the capital after being convicted of libelling a district councillor on Twitter. Navalny denied he could have posted the tweet.
The libel conviction could have seen his suspended sentence converted into jail time, but on Thursday he instead had his house arrest extended.
Navalny is standing trial on charges of defrauding two clients of a freight-transportation service linked to him and his brother. One client was the Russian unit of the French cosmetics company, Yves Rocher.
The opposition leader says Yves Rocher has now withdrawn its claim against him, telling investigators that it had suffered no damage.