Searches continue for Dublin men Eoin O'Connor and Anthony Keegan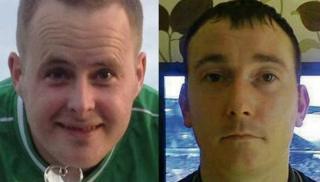 Searches are continuing on Saturday for two missing Dublin men.
Eoin O'Connor, 32, and Anthony Keegan, 33, both from Coolock in Dublin, were last seen in County Cavan on Tuesday after telling their families they were going to a meeting.
A silver Ford Focus they had been travelling in was found in County Westmeath on Friday.
It is understood Gardaí suspect their disappearance is connected to the activities of a Dublin criminal gang.
Police divers
Police said they were seriously concerned for the men's safety.
The focus of the search on Saturday has switched back to Cavan.
There is no police activity at Lough Owel in County Westmeath, where the car the men were in was found.
The car has been taken from Lough Owel to Santry Garda Station in Dublin, where it is being examined.
A major search operation took place in west Cavan on Thursday after the men were reported missing by their families on Wednesday.
It is believed the searches focused in the Bailieborough area.
On Friday morning, police divers carried out a search of the lough in Westmeath.
Farmers in County Cavan have been asked to search their fields and outhouses.