John XXIII - the 'Good Pope'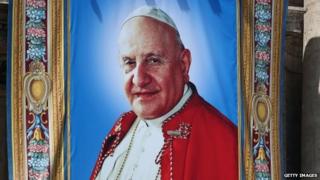 Pope John XXIII's relatively short time in office is remembered chiefly for convening the Second Vatican Council, which transformed the Roman Catholic Church.
The move, three months into his papacy caused surprise and in some cases shock.
The man who many expected to be a caretaker pontiff became a hero for progressive Catholics.
John XXII is also remembered for introducing the vernacular to replace Latin in church masses and for creating warmer ties between the Catholic Church and the Jewish faith.
He died from complications of stomach cancer in June 1963 after a papacy lasting less than five years.
He has a big following in Italy, where he is known as Il Papa Buono, the good pope.
The BBC's David Willey in Rome says that he turned out to be one of the greatest forces for changes in the Church in modern times, and that his promotion to sainthood was decided suddenly and very recently by Pope Francis.
'Disdain of pomposity'
Born Angelo Giuseppe Roncalli in the Bergamo area of Italy on 25 November 1881, John became pope in 1958, just before his 77th birthday.
He is credited with only performing one miracle - the healing of a nun - which meant Pope Francis had to waive customary rules requiring a second miracle after beatification.
Admirers say his papacy was characterised by his unstinting devotion to Christian duties including visiting prisoners and the sick.
But he is also remembered for his disdain of papal pomposity - insisting that he should only be referred to as "the Pope" and reorganising the College of Cardinals so that it became far more international in its outlook.
Pope John appointed the college's first members from Japan, Africa and the Philippines.
Groundbreaking
The Second Vatican Council - informally called Vatican II - comprised up to 2,500 bishops and thousands of observers and laypeople
During four sessions between 1962 and 1965, it produced 16 documents that are considered the foundation for the Roman Catholic Church as it is known today.
Experts say Vatican II's proclamations were so groundbreaking because of their emphasis on reconciliation - an important theme in post-war Europe.