Amanda Knox 'delivered fatal blow to Meredith Kercher'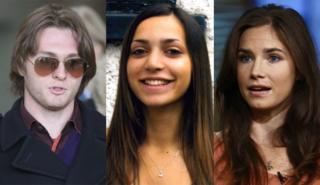 The Italian judges who reinstated the guilty verdict against Amanda Knox say she delivered the fatal knife blow to UK student Meredith Kercher.
Explaining their ruling, the judges said Knox and her Italian ex-boyfriend, Raffaele Sollecito, killed Miss Kercher after a violent argument.
Knox and Sollecito were originally convicted of the murder in 2007.
They were acquitted on appeal in 2011, but that ruling was overturned in January.
Knox, who is currently in the US, was sentenced to 28 years and six months. Her former boyfriend received 25 years.
Both had pleaded not guilty.
'Fought over money'
Explaining its reasoning on Tuesday, the appeals court in Florence said the victim's wounds indicated multiple aggressors.
The judges said they believe both Knox and Sollecito wielded knives, as another man, Rudy Guede, held the victim down and committed a sexual assault.
But it was Knox who "delivered the only mortal blow", striking Meredith Kercher with a kitchen knife, presiding judge Alessandro Nencini concluded.
The prosecution had originally argued that Miss Kercher was killed in a sex game that spiralled out of control.
But in its explanation, the appeals court agreed with a later theory that she was killed after a violent quarrel.
It said Knox and Miss Kercher had fought over money on the night of the killing.
In a statement on Tuesday, Knox said the court's reasoning was "not supported by any credible evidence or logic".
Both Knox and Sollecito are expected to appeal against the latest decision.
The trial will now go back to Italy's highest court, the Court of Cassation, which could uphold or overturn the verdict.
If it upholds it, officials are expected to begin the lengthy process to extradite Knox from the US, where she returned on her release from prison in 2011.
Meanwhile, Guede is already serving a 16-year prison sentence after being convicted of Miss Kercher's murder at an earlier trial.