Ukraine crisis: Meeting the little green men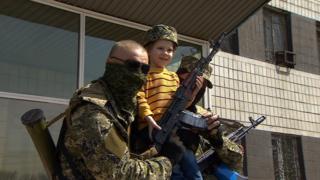 Nikolai stood near the local council building in Konstantinovka, leaning on his walking stick and shaking his head at the scene in front of him.
Masked gunmen in camouflage had seized the building and were guarding the entrance. Meanwhile, Pro-Russia activists were building barricades with concrete blocks and sandbags and singing along to а pop song about the Soviet Union.
Back in the USSR, Nikolai had worked for Soviet military intelligence. He's convinced that the men with guns here are from Russia.
"I went up to them," Nikolai told me. "They had modern Russian automatic rifles. I told them: I don't believe you are Ukrainians. You're from Russia. From GRU Military Intelligence. You can't cheat me. I'm from the same system."
"One of them replied: 'Ah, there's no tricking an old wolf, is there?' I'm sure they've been sent here and paid to make revolts and calamities."
'We're all Russian'
I asked one of the armed "men in green" where he came from.
"Ukraine," he replied curtly. Then he smiled: "Actually, there's no such nationality as Ukrainian. That's an Austria-Hungarian deception. We're Russian. We're all Russian. And this land isn't Ukraine: it's Novorossiya - and we will defend it."
Thirty kilometres (19 miles) away in Kramatorsk, pro-Russia militants have occupied the administration building there, too. Inside I met Vadim Ilovaisky.
He introduced himself as the town's new 'Military Commandant'.
He was sitting in army fatigues in the office of the deputy mayor, poring over maps of the region (the deputy mayor, he informed me, was on sick leave). The Military Commandant pointed out the aquarium in the corner and assured me that he was taking good care of the deputy mayor's fish.
I asked Vadim where he was from.
'I'm a Cossack," he told me, "my grandfather and great-grandfather were from Stavropol region (in southern Russia)."
"In civilian life, I'm a PR consultant. But as a Cossack commander I took part in the Crimea campaign. I'm a citizen of Ukraine."
When asked where he lives now, he was evasive: "My home," he replied, "is the building I'm sitting in."
'Taped conversations'
Like the veteran military intelligence officer I met in Konstantinovka, the West, too, is convinced that there is a direct link between Moscow and the pro-Russia militia that has been seizing government buildings and police stations with impunity across Eastern Ukraine.
According to The Daily Beast, in a recent closed door meeting, the US Secretary of State John Kerry revealed that the US had obtained "taped conversations of intelligence operatives (in Ukraine) taking their orders from Moscow".
Washington had already accused Russia of continuing "to fund, co-ordinate and fuel a heavily armed separatist movement" in Ukraine.
The Ukrainian government alleges that the commander of pro-Russia militants in eastern Ukraine - Igor Strelkov - is a Russian military officer. Kiev claims that his real name is Igor Girkin and that he is from Moscow.
This week he was among the 15 individuals sanctioned by the European Union. The EU identified him as "staff of the Main Intelligence Directorate of the General Staff of the Armed Forces of the Russian Federation (GRU)".
In an interview with the Russian tabloid Komsomolskaya Pravda last weekend, Commander "Strelkov" claimed that "more than half, or maybe two-thirds" of his force were Ukrainians. "Many of them," he said, "had battle experience, many had fought in the Russian army…"
Evaporating power
Russia denies having troops or operatives on the ground in Ukraine. Moscow maintains that the militias and "self-defence forces" which have sprung up in eastern Ukraine are spontaneous demonstrations of people power sparked by fear of "fascists" in power in Kiev.
But if Russia is orchestrating this revolt, what does that tell us about Moscow's influence in eastern Ukraine and the level of control Kiev has?
Judging by the ease with which pro-Russia groups have been seizing key buildings, in many cases simply walking in and taking over, the power of central government has been evaporating here.
Even Ukraine's acting President Olexander Turchynov has admitted that in Donetsk and Luhansk regions security personnel "tasked with the protection of citizens" were "helpless."
Even worse, "some units," he claimed, "either aid or co-operate with terrorist groups".
If President Putin's plan is to weaken, or even split Ukraine, he may not need to send in Russian tanks.
Amid the chaos, the violence and the fear in eastern Ukraine, deep divisions have already emerged.
And, for now, Kiev appears incapable of holding the country together.